The Plushbeds Botanical Bliss natural latex mattress is a latex core mattress that is third-party certified to be free of toxic chemicals and VOC's. Additionally, the cover is zippered so that you can access the inner layers and adjust the firmness at a future point in time.
Manufacturer
Botanical Bliss
(9, 10, 12 inches)
by Plush Beds
Visual
Check
latest price
Mattress type
Latex Core
Materials
Organic cotton cover,
Organic wool,
Dunlop latex
Firmness
medium,
medium firm
Queen
60" X 80" X (9", 10", 12")
Certification
GOLS Latex,
USDA Organic,
OEKO-TEX standard 100 Latex,
GOTS organic cotton,
Greenguard Gold,
Eco Wool.

Free Returns
✔
Free Shipping
✔
Ships to Canada
✘
Trial
100 nights
Warranty
25-year limited
Visual
Manufacturer
Botanical Bliss
(9, 10, 12 inches)
by Plush Beds
Check Latest
Price
Plush Beds Natural Latex Mattress Overview
If you're reading this article, you may be one of many people that are sleep-deprived. For whatever reason, you just can't get a decent night's shuteye and it may be a result of stress from work, home, or the many obligations that you may have.
The lack of quality sleep you are experiencing may also be attributed to the quality of your mattress. Is your current mattress made of natural and organic materials, or does it contain flame retardants, synthetic foams and glues that off-gas chemicals into your home environment? Does it offer amazing pressure relief to your shoulders and hips or has it developed intentions that make you feel like you're sleeping in a ditch? Is your current mattress made of durable organic materials, or was it the cheapest and perhaps the lowest quality mattress you could find at the time?
If any of these scenarios sound like what you're going through, the Botanical Bliss by Plush Beds may be what you are looking for. It is available in two firmnesses (medium and medium-firm) and thicknesses (9.10 and 12-inch)
Now, the word "organic" is thrown around a lot these days, especially when it comes to food products. But we assure you, this mattress is indeed made from organic materials to give you the much-needed comfort for a great night's sleep.
Piqued your interest enough? Read through this review, and hopefully, you'll be able to make a more informed decision.
The Overview
The organic elements found in the Plushbeds Botanical Bliss Latex mattress, and this is actually what makes this product stand out. The top layer is made from organic cotton with a material that promotes unobstructed airflow and moisture absorption. The layer right beneath it is made from New Zealand wool and has the same temperature-regulating feature.
The three layers underneath are all uniquely adjusted to give just the right amount of firmness and softness. These organic latex materials are guaranteed to last up to 25 years, which is much longer than the average mattresses that are only good for a decade at the most.
These traits make the Plushbeds Botanical Bliss Latex mattress a highly-recommended product by orthopedic specialists and chiropractors alike. It supports the entire body in a way that covers all necessary pressure points. Ultimately, it helps alleviate all existing aches and discomfort.
This product is also a delight for pulmonologists, given its mould and mildew-resistant material. It is also dust mite and allergen-resistant, so you won't have to worry too much about clean-up after years of use.

Sizing
The Plushbeds Botanical Bliss Latex mattress offers three thickness options which can accommodate everybody type: 9", 10", and 12".
The 9-inch mattress is made of two three-inch layers of organic Aprico latex along with another two-inch layer of the same material. All of these are enveloped by a one-inch organic cover and up to 10 pounds of natural wool batting.
The 10-inch mattress comes with the same wool batting and organic cover. The only difference is that it is made with three three-inch layers of organic Aprico latex.
The 12-inch mattress is kind of an outlier, in that it comes with an additional two inches of organic latex for a taller look. This product is perfect for those who want their mattresses firmer with less give.
Firmness
When it comes to firmness, the Plushbeds Botanical Bliss Latex mattress keeps it simple. You're given two choices: medium and medium-firm.
The medium variant is more popular between the two, which is the preferred pick among 80% of customers. It comes with a soft top layer, a medium second layer, and a medium-firm bottom layer. The 12-inch mattress has two medium-firm layers at the bottom.
The medium variant makes for a perfect combination of firmness and softness. It is the ideal choice for people who prefer sleeping on their side.
The medium-firm mattress works best for heavier folks who weight 275 pounds and up. And unlike the medium mattress that's a top pick for side-sleepers, this one is the preferred variant for those who love sleeping on their backs and stomachs.
The nine and ten-inch options don't have soft layers. They start off with a medium top layer, a medium-firm second layer, and an extra-firm bottom layer.
The 12-inch option, meanwhile, has two medium-firm layers in the middle. This is the best option for heavier people as it will offer continuous pressure relief without bottoming out.
Not many people are a fan of the 12-inch variant, with only 20% of consumers picking it. But those who swear by it, particularly heavy-set people, would not switch back to their previous mattress.
What to Look For in a Mattress
Indeed, comfort levels are imperative when it comes to choosing the right mattress for you. However, there are many other factors involved in the decision-making process, and here some that you'll likely see in a Botanical Bliss mattress:
Elasticity: Ask yourself a simple question: do I prefer a firm bed, or do I want a mattress with a little bit of bounce? If you are going for the former, latex and memory foam mattresses are your best options. Otherwise, go with an innerspring mattress.
Pressure Relief: The right mattress should give you enough comfort to relieve your body from any discomfort. It should hit the proper pressure points, particularly the back, neck and hip areas.
Durability: Around 6 to 8 hours of your daily life will be spent on this mattress, so of course, you would want something that will last you at least a decade. It should include external variables like if you have children who enjoy the occasional bed jump, or if you have a partner to consummate a relationship with.
Price: Mattresses are worthy of spending a small fortune as an investment, but don't go too crazy. The ideal price point is $1,500, which already gives you a plethora of high-quality options.
Warranty: While the average lifespan of a good mattress is lengthy, you should still consider the warranty offer of each manufacturer. Most companies give out a ten-year warranty, but many also offer as much as double that time frame.
Material: The use of chemicals is common in mattress manufacturing. The problem is, these chemicals may be harmful to our long-term health. In this case, you may want to go for products made from all-natural materials.
What makes Plushbeds stand out
Firmness Levels and Latex Material
Firmness in Plushbeds products is distributed through layers within the overall mattress. Medium is at the 5-7 range in firmness levels, from soft to medium. Firms are at the 7-9 range, from medium to extra firm.
All three to four sections are made from Dunlop Latex, which is dense enough to respond to pressure applied as you put weight on it. In effect, the mattress has a bit more give and becomes bouncier.
What sets the Botanical Bliss apart from memory foam mattresses is that it does not allow too much contouring. And with the latex material it's made of, you're kept at a cooler temperature as you sleep. You no longer have to worry about hot summer nights with this mattress.
Organic Certifications
Many companies may stake claim to how their products are made from organic material, but Plushbeds' Botanical Bliss Mattress has some certifications to prove it:
GOLS Certified: This certificate ensures that each mattress is made from 100% Organic Latex, and proof that is passed the Global Organic Latex Standard.
GreenGuard Certified: A product with this certification means it is free from any low chemical emissions. It is a massive plus for those dealing with respiratory issues.
GOTS Wool Certified: The Global Organic Textile Standard certified this product for using high-quality wool, and that it was produced using the best practices.
Control Union Certified: This certificate is proof that Botanical Bliss mattresses are made from eco-friendly materials that lessen the Earth's carbon footprint.
Oeko-Tex Standard 100 Certified: This certification may be a mouthful to say, but it is a huge plus for those vulnerable to allergies.
Suitability for All Types of Sleepers

We all prefer to sleep in different positions, but generally, there are only three ways to do it: on your side, on your back or your belly. The great thing about these mattresses is that it accommodates all three types of sleepers.
Back Sleepers: Firm
Plushbeds' firm mattress is a perfect fit for those who sleep on their backs because of how the latex supports the spine. Since there isn't much give, it keeps the back, spine, and neck aligned.
You probably won't need a pillow with how much support it gives.
Stomach Sleepers: Firm
What makes the firm mattresses the right choice for stomach sleepers is that it gives just the right amount of support. They can choose to lie flat on a bed without the worry of suffocation or inability to breathe.
Stomach sleepers could use stable support, especially for their neck and back. Plushbeds' firm variant may just do the trick.
Side Sleepers: Medium and Firm
Those who prefer to sleep on their side are better off with either the medium or firm options. The choice, however, still depends on weight. Those on the lighter side of 130 pounds, for example, go with the medium because it hits proper pressure points.
On the other hand, those who weigh more than 230 pounds prefer the firm mattress for the same effect.
Pros and Cons
We've repeatedly discussed much of the advantages of owning one of Plushbeds' mattresses, but no product is free from disadvantages. Some characteristics aren't that appealing to some customers, and it should give a clearer idea of what to expect.
Pros:
Mattresses are made from high-quality materials that won't harm you or the environment
Mattresses are suitable for different types of sleepers, depending on their weight
The latex material helps keep body temperature stabilized, giving a more comfortable night's sleep
There are proper motion and noise isolation, perfect for those who tend to toss and turn in the middle of the night
Comes with a lengthy 25-year warranty
Cons:
There isn't much body contouring, which can be a hassle for some
The multiple layers of underneath make it heavier and more challenging to rotate or lift if needed
There is a lack of edge support
Comes with a hefty price tag
Bottom line: If you prefer organic materials and customized firmness over contouring and have the budget for it, the Botanical Bliss Mattress of Plushbeds could be the perfect one for you.
Frequently Asked Questions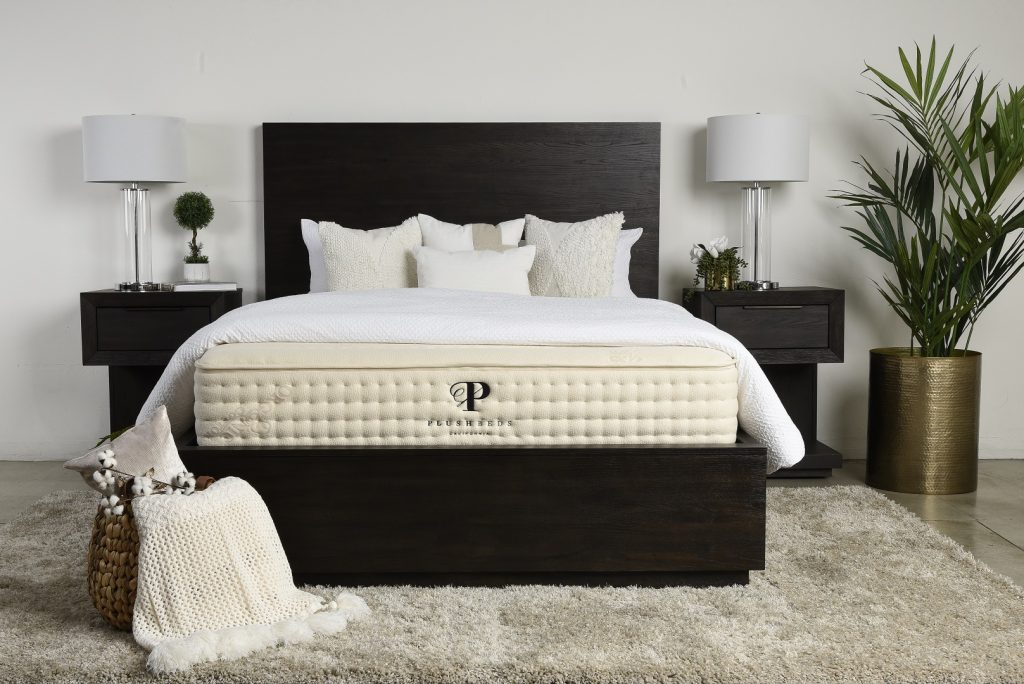 Plushbeds mattresses are made from organic material. What harmful toxins are they free from?
There are too many to mention. But here are just some of these chemicals you probably didn't know where in your bed mattress and how it affects your long-term health:
Lead: This chemical is commonly used as a primary adhesive during the manufacturing stage of many mattresses. Prolonged exposure can cause cognitive issues among young children.
Cyanide: Here's another chemical that's prevalent among non-organic materials. Cyanide when ingested directly can kill instantly, but low levels of exposure can still cause some dizziness, as well as eye and skin irritation.
Chloroform: Just like how the lead is used, chloroform is another type of adhesive used for mattress manufacturing. As noted by the EPA, acute inhalation of this chemical may already cause central nervous system depression.
Mercury: Here's another common adhesive component use for mattresses. Light inhalation and exposure to Mercury can cause headaches, numbness and muscle weakness. It also deemed as a possible threat to the development of a child in a mother's womb.
How does body weight play a role in choosing the right mattress?
We've briefly mentioned how body weight plays a role in picking a mattress, and it is mainly on the amount of sinkage and firmness it gives you. This why lighter-set folks are best-suited for medium mattresses, while those on the heavier side of the weighing scale are better off for the firm variant.
What dimensions/sizes are available?
Not only does Plushbeds have a wide variety of firmness options, but the mattress dimension itself is also a bit diverse. Here they are:
Twin: 38 x 75 inches
Twin XL: 38 x 80 inches
Full: 54 x 75 inches
Queen: 60 x 80 inches
King: 76 x 80 inches
California King: 72 x 84 inches
Split King: 76 x 80 inches
Given these many options in terms of size, you can pretty much customize a mattress according to your body type and preference.
The Verdict
Not many companies out there offer the same deal as Plushbeds does. The Botanical Bliss Mattress alone is a strong enough statement about how it puts its consumers' health and satisfaction at the top of their priority list.
While there are some downsides like all products have, we can say that this one is worth the investment. Just by looking at these specs alone, you can be assured to have a great night's sleep for the next 25 years of your life.