Manufacturer
Natural Bliss
(Wool free, 6, 8, 10 inches)
by Plush Beds
Visual
Check
latest price
Mattress type
Latex Core
Materials
Organic cotton,
Plant-based
fire barrier,
Talalay Latex
Firmness
Soft,
Medium,
Medium-firm
Extra-firm

Queen
60" X 80" X (6", 8", 10")
Certification
GOLS,
GOTS,
Oeko-Tex
Greenguard Gold,
eco-INSTITUT ,
Control Union Certified


Free Returns
✔
Free Shipping
✔
Ships to Canada
✘
Trial
100 nights
Warranty
25-year limited
Visual
Manufacturer
Natural Bliss
(Wool free, 6, 8, 10 inches)
by Plush Beds
Check Latest
Price
Watch A Video Of The Natural Bliss Review
The Wool-Free Natural Biss by Plush Beds – The Least You Need To Know
We'll start this Plush Beds Natural Bliss review by giving you a breakdown of its main features:
Sleeps cool thanks to the open-cell Talalay latex.
Certified by Greenguard Gold.
Hand-crafted in Camarillo, California
What is it made of?
Organic cotton cover
A plant-based and wool-free Eco Fire Barrier™
Single-source natural Talalay latex
Features
Sensitive and pressure-relieving top layer
Vegan & Wool free
Certified organic cotton cover (GOTS)
100% talalay comfort layer
The PlushBeds Advantage
Free returns & 100-night trial
100 night, in-home comfort exchange
25-year limited warranty
PlushBeds Natural Bliss Detailed Review
The Natural Bliss by Plush Beds is specifically made for those who are looking for a vegan or wool-free mattress. If you are allergic, or sensitive to wool, and want an eco-friendly, natural bed, the Natural Bliss is a great option.
Wool Allergies
Note that while sleeping on any natural latex mattress with a wool fire barrier, you won't be in direct contact with the wool, as it is encased with a quilted cover that is typically made of cotton. Furthermore, you will likely cover the mattress with a mattress protector and sheets, further minimizing contact with the wool fire barrier. So, unless you have an allergic reaction to the smell of wool, or that the faintest contact with it causes an allergic reaction, you should be fine with a natural latex mattress that has a wool fire barrier.
If you are in doubt about your reaction to a mattress that has a wool fire barrier, the Natural Bliss is a safe option. With the Natural Bliss, you will be eliminating any potential allergies that you may develop as a result of sleeping on a mattress with a wool fire barrier.
Natural Bliss: A Vegan Option With A Wool-Free Fire Barrier
If you are looking for an animal-free, yet natural mattress option, the Natural Bliss is a great choice. Instead of wool, it uses the Eco Fire Barrier™ which is proprietary silica and plant-based fire barrier.
The fire barrier is made of hydrated silica and plant cellulose fibres. This eliminates the need for dangerous chemicals.
The Natural Bliss is PBDE-free, which is commonly used as a flame retardant by mattress manufacturers. Even at low levels, PBDE (Polybrominated Diphenyl Ethers) has been demonstrated to have an adverse effect on neurobehavioral development in children.
100% Natural Talalay Latex
The Natural Bliss contains 100% natural latex that was made using the Talalay process. The process is slightly more complex than the original Dunlop process. In essence, once the liquid foam has been poured into the mould, it is put into a vacuum and frozen. This process helps maintain a more consistent air bubble structure throughout the latex foam. The latex is then injected with carbon dioxide and vulcanized. Vulcanization is a term that is used in the latex manufacturing industry to signify curing.
The Talalay latex is free of formaldehyde, carcinogens, synthetic blends, petroleum fillers, harsh chemicals and artificial additives. This means that you won't be exposing yourself to VOCs (volatile organic compounds) which constantly escape petroleum-based foam throughout their entire lifespan.
The 100% Talalay foam that makes up the top comfort layer of the Natural Bliss is fine-tuned to provide uniform pressure relief.
No Glues Or Dyes
Plush Beds understands the health concerns that someone looking to purchase a natural latex mattress can have. That's why none of the components of the Natural Bliss are glued together. Additionally, no dyes were used to make the organic cotton cover. This eliminates any negative effect that glue or dyes could have on your health and the environment.
What's Inside?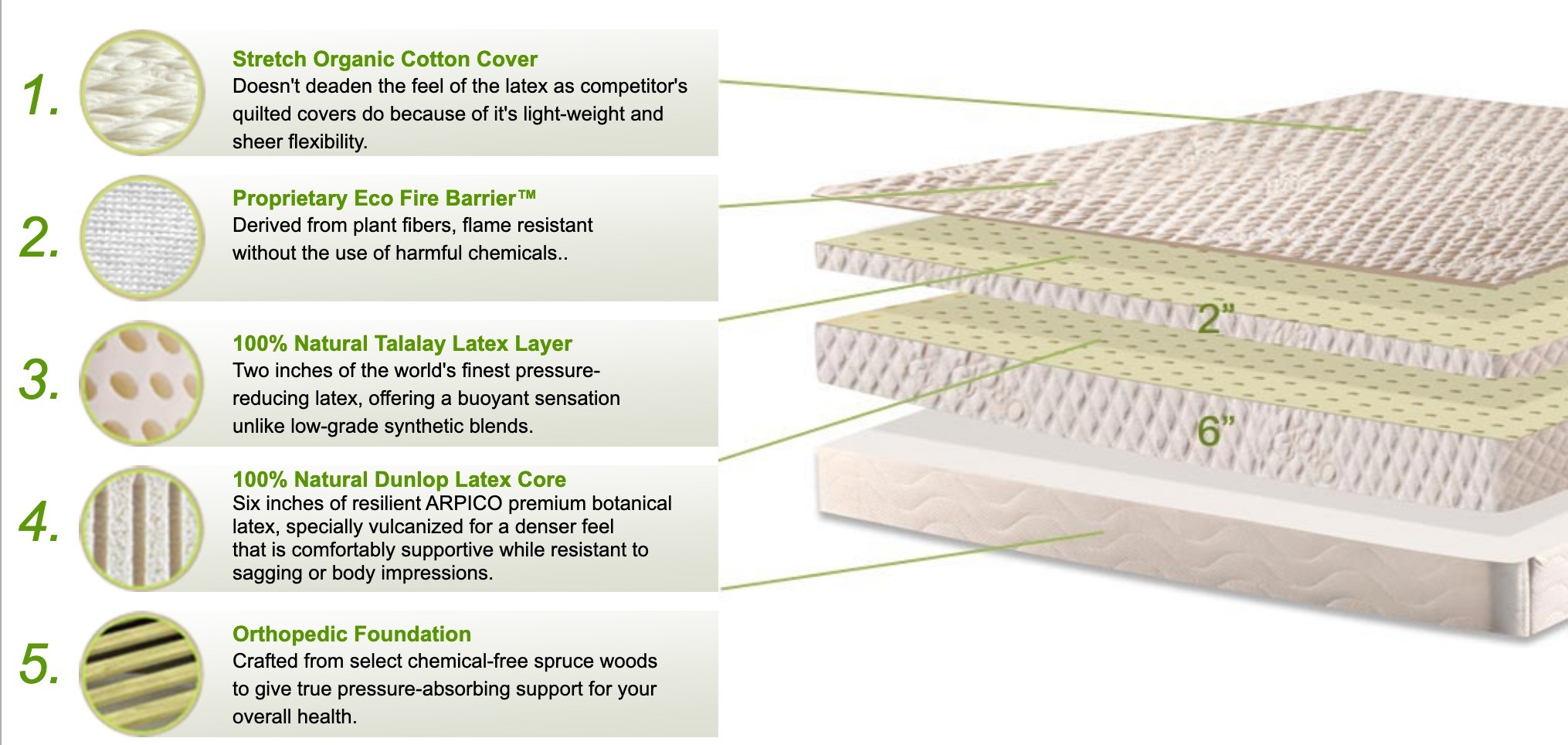 Organic Cotton Cover: with its circular knit pattern, the cotton cover is more elastic, breathable, wrinkle-resistant and stretch-resistant than its woven counterparts. A knitted mattress cover as opposed to a woven cover works in conjunction with the natural latex to provide ultimate breathability and helps you sleep cool.  The organic cotton is grown without the use of pesticides and herbicides, which means you won't be creating a health hazard to yourself and the environment by choosing the Natural Bliss.
Eco Fire Barrier: mattresses sold in the USA must pass UL flammability test 1633. This test ensures that the mattress has a certain resistance to an open flame. Most conventional mattresses (Casper, Leesa, Tempurpedic), manufacturers use Boric Acid, Antimony and Decabromodiphenyl Oxide (decaBDE), all of which pose a potentially serious health hazard. Exposing yourself to these chemicals for 8 hours a night can lead to adverse health effects in the long term. The Eco Fire Barrier is a proprietary cellulose fibre and hydrated silica-based fire barrier that meets and exceeds flammability requirements without the use of harmful chemicals.
100% natural Talalay comfort layer: sleeping on Talalay latex makes you feel very buoyant and light. It relieves pressure points that develop around the shoulders and hips which means that you will spend less time tossing and turning to relieve discomfort. Additionally, you will not overheat, thanks to the air-infused Talalay latex. Similar to Dunlop latex, but with a more consistent density, the Talalay latex foam is mould and mildew proof, dust mite resistant and comes from a natural and biodegradable resource.
100% natural Dunlop latex core: The Dunlop processing method requires fewer steps and additives when comparing to the Talalay process. The result is a more economical but more dense and supportive foam. That's why the 6-inch Dunlop latex core is ideal as it will not sag or develop indentations or body impressions over time. It is highly resilient. Just like the Talalay layer, it will absorb and relieve pressure points in your body and remain buoyant and supportive.
Certifications
Plush Beds stands for transparency. That's why you can see the actual certificates from GOLS (Global Organic Latex Standard) and OEKO-Tex right on their website. Just navigate down the page and select the "Construction" tab just to the right of "Overview" and you will have access to the actual certificates.
Control Union Certified
The Natural Bliss is also certified by:
eco-INSTITUT
Greenguard Gold

Eco-Institut
GOTS (Global Organic Textile Standard)
Control Union Certified

Which Firmness and Thickness are Best suited for your Body and Sleeping Style?
Each layer of latex foam has a particular ILD (indentation load deflection). Note that an ILD rating is given to individual layers only, and not the entire mattress.
A mattress that is too firm will result is more pressure points in the hip and shoulder area. This will lead to discomfort and a lot of tossing and turning. On the other hand, a mattress that is too soft will not provide enough support and may lead to strain in your articulations.
Below 225 pounds
Choose the 6″ model or above.
Soft: Back or side sleepers that enjoy a plush feel and like sinking into the mattress
Medium: The most popular option. A perfect balance of support & comfort for side sleepers & all-around sleepers.
Med-Firm: Ideal for back & stomach sleepers
Extra Firm: Best for back sleepers that enjoy a firm mattress.
225 pounds and over
6″ model: up to 225lbs
8″ model: up to 275lbs
10″ model: up to 275lbs or over
Made to order in a variety of firmnesses and thicknesses
Since Plush Beds builds every mattress as the orders come in, they can offer a wide variety of thicknesses, firmnesses and sizes, without having to warehouse all the possible combinations of the Natural Bliss mattress.
Thickness options: 
Firmness options: 
Soft: (19-21 ILD)
Medium: (24-36 ILD)
Med-firm: (29-31 ILD)
Extra-firm: (34-36 ILD)
Size option:
Twin
Twin XL
Full
Queen
King
Cal-King
Split-Queen
Split-King
Split Cal-King

Foundation Options
The Natural Bliss can be mounted on the following foundations:
Buying Experience
Free ground shipping for the continental USA. You will receive a notification once the mattress ships. Once it arrives in your local area, the carrier dispatch will call you to schedule the delivery.
White glove delivery for 99$. Do you need help setting up your new mattress and getting rid of your old one? Simply contact PlushBeds after you have placed your order online and they will contact a skilled local contractor to handle everything.
Order cancellation: you may cancel your order anytime before it ships.
100-night Free Comfort Exchange: This should remove any doubt from finding the ultimate mattress. If you're not satisfied with the firmness of the mattress, Plush Beds will send you a free one-time replacement after you pay a $145 deposit. Once you get it, simply unzip the cover and exchange the top layer with the new one of different firmness. Pack up the old one into the original box and attach the UPS label that Plush Beds provides. Upon receipt of the comfort layer, Plush Beds will refund your $145 deposit and send the comfort layer to a 3rd party liquidator. Any mattress will require an adjustment period, so give it at least 60 days before you decide to go for a comfort exchange.
100-Night Free Returns. You have 100 nights to make sure you're getting the best sleep of your life. If for whatever reason, the Natural Bliss is just not for you, you may return it for a full refund up to 100 days after purchase. Plush Beds asks that you sleep on your new mattress for at least 30 days before going through with a full refund. Note that Plush Beds will send the returned mattress to 3rd party liquidators after purchase, so it must be in pristine condition and not be soiled or stained. Any bonus items must be unopened, otherwise, a $99 convenience fee will be charged.
25-year warranty this is more than Tempurpedic (20 years), Sealy (20 years), Serta (10 years) or Simmons (10 years).
FAQ
If I decide to return the Natural Bliss within 100 days, do I have to bring it to UPS? You must package the mattress and Plush Beds will arrange a pickup from your residence and pay for the shipping cost.
Does the Natural Bliss transfer motion? An all-latex core mattress like the Natural Bliss will transfer less motion than an innerspring hybrid mattress like the Luxury Bliss. Thanks to the amazing resiliency and responsiveness of natural latex, an all-latex core mattress like the Natural Bliss will quickly compress and adapt to your body shape when you change positions. The motion created by movement will be localized. This is what makes the Natural Bliss a great option for couples.
How does a natural latex mattress feel in comparison to a polyurethane mattress? The main difference is the increased responsiveness and better pressure relief. When you change positions, the shift is effortless. Thanks to the better pressure relief, you'll be changing positions less frequently than with a conventional polyurethane mattress.
How do I select the right firmness? If you spend any time sleeping on your side, I suggest going with the medium. Most people are very satisfied with this firmness because it gives the right amount of pressure relief at the hips and shoulders when you sleep on your side.
Does the Natural Bliss sleep hot or cool? Thanks to the open-cell latex and the circular-knit cotton cover, the Natural Bliss is very breathable and will help you sleep cool. Natural latex is much more breathable than memory foam or gel foam.
Do the inner layers shift over time since they are not glued together? Natural Latex foam is somewhat abrasive. Once the latex layers are positioned together they will grip one another and won't shift out of position. Another advantage of having a glueless mattress and the zippered cover is that you can customize the feel, even several years down the road by switching out the comfort layer.
How does the Natural Bliss compare to a memory foam mattress? In terms of responsiveness, natural latex and memory foam are polar opposites. Natural latex will respond super fast to compression, while the memory foam will be slow. Many people find the slowness of response quite distracting when they're trying to fall asleep and are changing positions to get comfortable.
Plush Beds Natural Latex Mattresses Comparison
Manufacturer
Natural Bliss
(Wool free, 6, 8, 10 inches)
by Plush Beds
Luxury Bliss
by Plush Beds
Botanical Bliss
(9, 10, 12 inches)
by Plush Beds
Visual
Check
latest price
Mattress type
Latex Core
Hybrid
Latex Core
Materials
Organic cotton,
Plant-based
fire barrier,
Talalay Latex
Organic cotton,
Joma wool,
100% natural latex,
Fabric encased coils

Organic cotton cover,
Organic wool,
Dunlop latex
Firmness
Soft,
Medium,
Medium-firm
Extra-firm

Medium,
Medium-firm
medium,
medium firm
Queen
60" X 80" X (6", 8", 10")
60" X 80" X 12"
60" X 80" X (9", 10", 12")
Certification
GOLS,
GOTS,
Oeko-Tex
Greenguard Gold,
eco-INSTITUT ,
Control Union Certified

Greenguard Gold,
USDA Organic (cotton, latex),
GOLS,
OEKO-Tex Standard 100,
Eco-Institut,
GOTS Organic,
Eco Wool.
GOLS Latex,
USDA Organic,
OEKO-TEX standard 100 Latex,
GOTS organic cotton,
Greenguard Gold,
Eco Wool.

Free Returns
✔
✔
✔
Free Shipping
✔
✔
✔
Ships to Canada
✘
✘
✘
Trial
100 nights
100 nights
100 nights
Warranty
25-year limited
25-year limited
25-year limited
Visual
Manufacturer
Natural Bliss
(Wool free, 6, 8, 10 inches)
by Plush Beds
Luxury Bliss
by Plush Beds
Botanical Bliss
(9, 10, 12 inches)
by Plush Beds
Check Latest
Price

Get an extra 100$ off! Apply coupon code NMF100OFF at checkout.

Get an extra 100$ off! Apply coupon code NMF100OFF at checkout.

Get an extra 100$ off! Apply coupon code NMF100OFF at checkout.