Manufacturer
Pure Green Mattress
by Sleep On Latex
Visual
Check
Latest Price
Mattress Type
Latex Core
Materials
Organic wool/cotton cover,
1″ wool padding,
2″ 20ILD Natural Latex,
6″ 34 ILD Natural Latex
Firmness
Soft
Medium
Firm
Certification
Greenguard Gold
Oeko-Tex
Eco Institut
Free Shipping
✔
Free Returns
✔
Trial
30 days
Warranty
10 year limited
Country Of Origin
Made in USA
Queen
60″ X 80″ X (9″, 12″)
Visual
Check
Latest Price
Manufacturer
Pure Green Mattress
by Sleep On Latex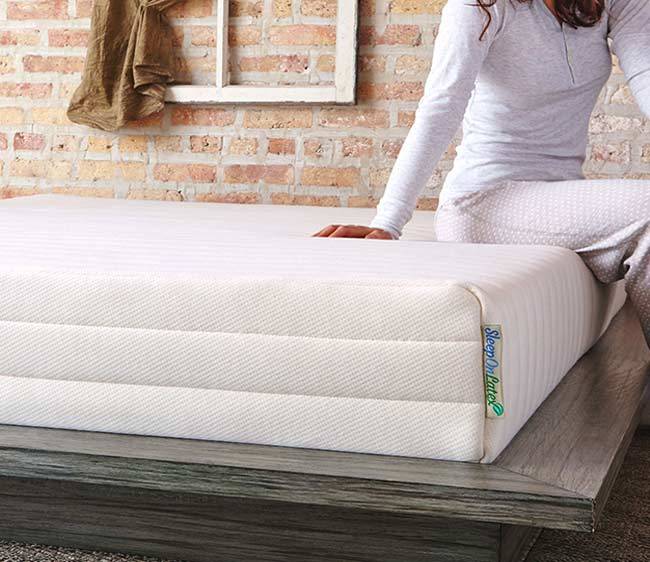 The Pure Green by Sleep On Latex presents a breakthrough in comfort and durability and has raised the bar for latex mattresses. Its GOTS-Certified Cotton and GOTS-Certified Organic New Zealand Wool are a testament offer the best there is in terms of quality and craftsmanship. No poly-foam, synthetic latex foam or blended latex foam here, the Pure Green is true to its name featuring 100% natural latex foam. This bed is assembled in the USA at Sleep On Latex's Chicago factory. In this Pure Green Mattress review, we hope to cover the important aspects of this innovative product.
Layered for comfort
The Pure Green by Sleep On Latex is available in soft, medium or firm. The Pure Green Natural mattress is layered in such a way as to give just the right amount of firmness without sacrificing the comfort of a latex mattress.
The 8" Sleep On Latex Mattress
Total height: 8-Inches
From top to bottom:
– Channel Quilted Wool Mattress Cover
– 2" 100% Natural Latex Foam Soft Layer
– 6'' 100% Natural Latex Foam Base Layer
Mattress Performance
The most important component of the Pure Green mattress is the 100% natural latex foam. It is of the highest quality, devoid of synthetic latex or fillers.
An additional bonus comes in the form of an easily removable mattress cover. The cover is made of two different parts attached by a heavy-duty zipper. When the parts are attached, the zipper can be hidden underneath the bottom edge of the mattress, to prevent unsightly zipper teeth from showing.
Support
One of the benefits of sleeping on a natural latex foam mattress is the elastic support it provides. The Pure Green mattress is no exception; its natural latex foam allows for resistance-free pinpoint support. Additionally, you can expect it to last much longer than a polyurethane mattress because the natural latex regains its original shape without developing indentations.
Quality And Durability

SleepOnLatex has been making a continuous effort to ensure that the quality of the mattress components is of the highest quality. Company representatives have travelled to Sri Lanka to source the natural latex foam. Sleep On Latex staff ensures that all of the latex foam components that are delivered are free of defects. Natural latex mattresses are far superior to synthetic latex mattresses in terms of durability and breathability because of the resilience of the natural components.
Another fact that ensures the quality of this product is that the Pure Green mattress is designed, sewn, and assembled in the SleepOnLatex Chicago factory.
Firmness
Customization is important for sleepers. Pure Green natural latex foam mattresses come in different thicknesses and different firmness levels, allowing sleepers customization to their specific preferences. SleepOnLatex recommends the soft type mattress for side sleepers, as the increased compliance of the lower density latex foam prevents pressure on the shoulders and hips. Back sleepers will find the most comfort in the medium firmness mattress. Not too soft or firm, this mattress is compatible with different sleep styles. Lastly, the firm mattress has the greatest amount of support.
Chemicals

Health-conscious people are becoming warier of popular petrochemical-based mattresses such as Casper and Tempur-Pedic. Volatile organic compounds, or VOCs, are unstable chemicals that get released from synthetic materials.  Some release odours as they get released, while others are inperceptible. Think of that new car smell or the smell of fresh paint. What you are smelling are VOCs that may be harmful to you. Off-gassing of solvents and other chemicals leads to an invisible haze of VOCs in indoor environments.
VOCs are omnipresent in modern society. With an increasing presence of petrochemical-based materials in indoor environments, our exposure to them has been ever-increasing. Many health-conscious and chemically sensitive people have begun limiting their exposure to prevent the adverse health outcomes VOCs are known to cause in high quantities.
SleepOnLatex vs. Casper
Unlike the Pure Green Natural foam mattress, the Casper mattress is polyurethane-based, resulting in higher levels of VOCs and off-gassing. Casper mattresses are certified by CertiPUR, which certifies that the mattress is free of ozone depleters, PBDEs, TDCPP or TCEP flame retardants, mercury, lead, formaldehyde, phthalate-free, and low VOC. The certification merely assures that the product's VOCs are below a certain threshold. Additionally, many of the harmful substances that the certification says the material does not contain have simply been replaced by newer substances that have not yet been tested for safety. No long-term studies exist for the replacement chemicals.
On its own, the polyurethane foam that makes up Casper mattresses is highly flammable. In order to meet flammability safety standards, foam manufacturers treat each mattress with flame-retardant chemicals in order to meet the flammability requirements of Underwriter's Laboratories. These flame-retardant chemicals may pose a health risk to you in the long term, even if the foam is Certi-PUR certified.
The flame-retardant layer of the  Pure Green mattress is provided by 100% natural wool, without anything added. Wool is not fireproof, but it does not support a flame.
Ventilation
The latex foam that comprises the 6" bottom layer of the Pure Green mattress, as well as the soft layer of the 9" version, is comprised of microscopic air chambers. These tiny "bubbles" are present throughout the mattress and allow air to circulate. These attributes combined with the breathability of the organic wool and cotton that constitute the mattress cover, allow the Pure Green mattress to help regulate your body temperature while you sleep.
Certifications

SleepOnLatex went to great lengths to ensure that the Pure Green natural latex foam is of the highest standard, and now has the certifications to back it up. This foam is certified by both Oeko-Tex and Eco-Institut. These are the world's leading independent textile emissions testing bodies for natural textile products.
Ordering Experience
Where to buy?
The Sleep On Latex Mattress mattresses can be purchased on Amazon.com
Shipping Details
The Pure Green Natural Latex Mattress ships for free to the contiguous United States. The mattress is compressed for shipping. The compression does not damage the mattress. After unpackaging, it typically regains its original shape within 48 hours. No signature is required for delivery.
Returns
The return policy of SleepOnLatex products is very customer-friendly. If customers are unsatisfied, they may return the mattress for up to 100 days from receipt. Returns for the Pure Green mattress are handled through a special department at Amazon.com. There are no restocking fees or return fees, and the mattress may be returned for any reason. Returns are facilitated through a free scheduled pickup.
Warranty
SleepOnLatex provides a 10-year warranty on the PureGreen mattress. The warranty covers any manufacturing defects, including "sinkage," "indentations".
Conclusion

The bed-in-a-box revolution has provided customers with a vast array of mattress manufacturers to choose from. People have become more savvy and astute when it comes to choosing the ideal bed. It should be comfortable and supportive, soft and durable, affordable and non-toxic.
The Pure Green mattress meets all these needs. The thicker 9" soft mattress accommodates side sleepers as well as all-around sleepers that enjoy a plusher feel. Back sleepers will find the most comfort in the 9" medium or firm mattress.
GOTS-Certified Cotton and GOTS-Certified Organic New Zealand wool allow for breathable comfort in any season, and the 100% natural latex foam provides a durable, comfortable and breathable sleeping surface.
FAQ
Are the layers of latex made through the Dunlop or Talalay process?


The foam that makes up this mattress is created using the Dunlop process, not Talalay. People report a bouncier feel while sleeping on mattresses made with latex foam that is produced in the Talalay method. The Dunlop process produces a foam that is springy rather than bouncy. Both processes result in a comfortable mattress and choosing between the two latex types comes down to personal preference.
Is any part of this mattress made or assembled in China?
While the natural latex foam comes from Sri Lanka, the design, assembly, and packaging of this mattress all take place in the United States in Chicago Illinois.
What type of bed frame or platform should I use with this bed?
Bed frames and platforms can both be used with this type of mattress. Platforms are the easiest option; the mattress can simply be laid on top. Customers who opt for a bed frame, however, must ensure that the slats are no more than 3-inches apart.
Once my bed arrives, how long do I have to wait before I can use it?
Once unwrapping your bed, it will be ready to use the same day. Keep in mind that the bed will take around 48 hours to regain its original shape. However, sleepers can rest assured, that the bed can be freely used in the meantime.

The Reviews are in!
*Paraphrased from Amazon.com
Meppy-Me on April 13, 2018 – Verified Buyer
We went from a hellish petrochemical based mattress (like Casper or Tempur-Pedic) to the 9-inch medium firmness mattress from SleepOnLatex. We are a back sleeper and a side sleeper. We added a 2-inch soft SleepOnLatex topper as well. The mattress is of high quality. The cover is supremely soft to the touch. I am over the moon happy with this mattress! My sheets fit – no more sheets flying off the bed. No more night sweats! No more sinking into the mattress and having to climb out. No more rolling toward the center! We sleep well and no longer have the aches, pains, and searing heat we got from that awful petrochemical monstrosity. The medium firmness 9″ mattress is firmer in comparison to our previous Tempur-Pedic mattress. Adding the Sleep on Latex 2-inch soft topper gave us the softness and height we desired.

High quality, dreamy mattress! Solid, supportive manufacturer! Perfect solution!
Tom Barrister on February 2, 2017 – Verified Buyer
The mattress expanded from its shipping box to a full mattress seconds after opening. There was virtually no odor, and the little that existed was natural latex (meaning harmless to breathe). The faint odor was not noticeable under a mattress cover and sheets. Beware that the mattress is very heavy: about 160 lbs. This is a good sign with latex because it means the material is generally longer-lasting. The mattress looks very well-made and I am confident that it will outlast a polyurethane based mattress.

I prefer a somewhat cushy mattress. I probably should have ordered the soft version of this mattress. This mattress would likely be a good fit for back-sleepers who don't need an extra-firm mattress, as it supplies much support without being rock-hard. Side sleepers might do better by ordering the "soft" version of this mattress. I solved the problem of the mattress not being cushy enough by purchasing a 3-inch "soft" latex topper from the same company. This added 3 inches of softness to the 2 or 3 already on the mattress and solved the problem.

Note that if you are coming from memory foam to latex, you'll experience a slightly different feel; latex doesn't conform to your body the same way as memory foam, and it may take a few nights to get used to it.