Natural, Non-Toxic Mattress Toppers
Natural Latex Toppers Comapison Table
---
Why you may want to add a mattress topper to your mattress.
There are a number of reasons why you may want to add a topper to your mattress, but fundamentally, it is to improve your comfort and quality of sleep. A topper is an excellent way to improve the feel and function of your current mattress and in doing so, you'll avoid having to replace your entire mattress if it is inadequate.
You may want to add a topper to your mattress because:
You want to adjust the firmness and your current mattress is either too soft or too firm.
You sleep hot. Natural latex is much more breathable than polyurethane foam and memory foam.
You suffer from allergies. Natural latex foam is hypoallergenic, dust mite, mould, and mildew resistant.
You suffer from back pain and joint pain. In this case, natural latex foam offers excellent pressure relief.
Experience the feel of natural latex foam.
Extend the life of your current mattress.
Natural latex toppers range in thicknesses from 1-inch to 3-inches. The thickness will have an influence on the cushioning, pressure relief and price.
You can use the following points to help you choose the thickness of your topper.
If you are a side sleeper or all-around sleeper, go with a 3-inch topper. Side sleepers have more bodyweight concentrated around the hips, so a thicker topper is needed to ensure pressure relief.
If you are a heavy person (200+ pounds), you will need a thicker topper to ensure pressure relief.
If you are a light person (below 150 pounds) and a back or stomach sleeper, then a 2-inch topper should be sufficient.
If you need more information about how to go about choosing the right topper thickness, read this guide by Eco Terra.
Topper Covers
100% Natural Latex Mattress Topper Reviews
The Pure Green 100% Natural Latex Mattress Topper
Made from natural latex which provides pinpoint support to instantly improve your sleep.
No fillers or synthetic latex – made of 100% natural latex
Available in soft, medium or firm. The medium model has a firmness rating of 30 ILD
5.0 lbs/cubic feet
Made from 100% natural latex foam that is antimicrobial, dust mite resistant, hypoallergenic and provides superior ventilation and heat regulation in comparison to polyurethane foam.
This mattress topper is made in Sri Lanka at the Pure Green latex foam factory. They have been producing natural latex at this facility since 2013.
You can use this mattress topper to rejuvenate a mattress with a worn-out comfort layer, to enhance the comfort of an ageing mattress or as a component of a DIY mattress project.
The Pure Green natural latex mattress topper is available in soft, medium and firm. All of the firmnesses of the topper react quickly to changing sleeping positions. The foam is responsive and you won't feel like you're sinking into the bed as with memory foam.
A new Pure Green natural latex topper has an inoffensive smell. It will not off-gas chemicals into your living environment as is the case with blended latex or straight polyurethane foam.
The Pure Green mattress topper is certified all-natural
Pure Green mattress toppers have been extensively tested by internationally recognized laboratories. This ensures that the latex is 100% pure and that it does not emit any volatile organic chemicals.
Pure Green natural latex toppers have the following certifications:
Pure Green mattress toppers are made in the Dunlop manufacturing process. This method produces larger air bubbles within the foam and is less bouncy than Talalay foam.
The Pure Green Topper Is Available in 3 thicknesses
1" mattress topper
This is a great choice for adding a layer of comfort to the mattress without changing the overall height of the mattress in any significant way. It is a great choice for people that want to slightly tweak the feel of their mattress.
2" mattress topper
The 2" model is the most popular topper in the Pure Green lineup. This layer will add a significant comfort layer to your existing mattress. However, you will retain the general support qualities of the mattress underneath.
3" mattress topper
Select this topper if you want a "mattress makeover". This Dunlop natural latex topper will rejuvenate your ageing mattress. If you're looking to change the overall firmness of your mattress, the 3'' topper is the way to go.
---
Take Ten Organic and Natural 2″ and 3″ toppers.
Made of 100% natural latex which is mould, mildew and dust mite resistant.
The holes left by the mould when the foam is steam baked allow for superior ventilation when compared to polyurethane foam.
Made in the USA.
Available in "natural" or "organic" and in 2″ and 3″ thicknesses.
Users of this mattress topper describe it as "luxuriously buoyant". The Dunlop foam will make you feel like you're floating on your mattress. Through rigorous testing, the research and development team at Take Ten found that Dunlop foam was more resistant to tearing and overall wear and tear.
When sleeping on the Take Ten mattress topper, you won't get a sinking feeling, like with many memory foams on the market. Occasional tossing and turning during the night will be easy thanks to the springy feel of the Dunlop latex. You won't get the feeling of being "stuck" like with many foam toppers.
Take Ten Natural and Organic Topper Models Firmness Guide


The Take Ten Mattress Topper is certified all-natural
Take Ten natural latex toppers are US & internationally certified for health and safety testing. The OEKO-Tex, LGA and EURO LATEX certifications guarantee that this product doesn't contain any harmful chemicals and does not release any harmful VOC'S (volatile organic compounds) into your bedroom.
---
Vytex Hypoallergenic Mattress Topper
Made with a patented formula and manufacturing process that removes all allergens from the natural latex foam.
Made with natural latex, so the topper stays cool and well ventilated
Natural latex offers great support without getting a sinking feeling that is common with many conventional polyurethane foams.
Environmentally friendly and sustainable manufacturing process. Natural latex is not a hazard to the environment and is made from a renewable resource.

A Truly Unique Product On The Market
For people interested in getting a completely hypoallergenic product, the Vytex natural latex mattress topper is a superior choice. It has virtually no smell when new. The Vytex topper is least likely to trigger an allergic reaction for anyone that suffers from acute allergic sensitivity.
The manufacturing process removes the natural rubber smell from the product. The rubber smell is inoffensive and yet Vytex has gone a step beyond by removing it altogether from the latex foam. Prior to baking, the liquid foam is put through two passes of a centrifuge to remove the proteins from the liquid latex sap. This process removes 99.9% of proteins from the liquid latex that is harvested from the Hevea brasiliensis tree.
The Vytex mattress topper is one of the only allergy-free natural latex products on the market.
Vytex Foam Is Clean
Vytex natural latex foam is free of volatile organic compounds (VOCs), petroleum-based additives and harsh chemicals and filler agents.
This foam is the cleanest on the market when it comes to colour, odour and allergens. Vytex natural latex foam is certified by GOLS (Global Organic Latex Standard) and Euro Latex Eco Standard. These are two of the most globally recognized certification bodies in the international marketplace.
Vytex Gives You Many Ways To Customize Your Mattress
The Vytex natural latex mattress topper is available in a stunning variety of thicknesses for all sizes of mattresses. It's available in 1", 1.5", 2" and 3" models. Check the latest price on Amazon.
---
Langria "natural" latex topper (not recommended)
*A blended foam topper.
This topper is included in my list of 100% natural mattress toppers in order to illustrate how easy it is to fall for a blended foam topper when your intention is to purchase a 100% natural latex foam topper.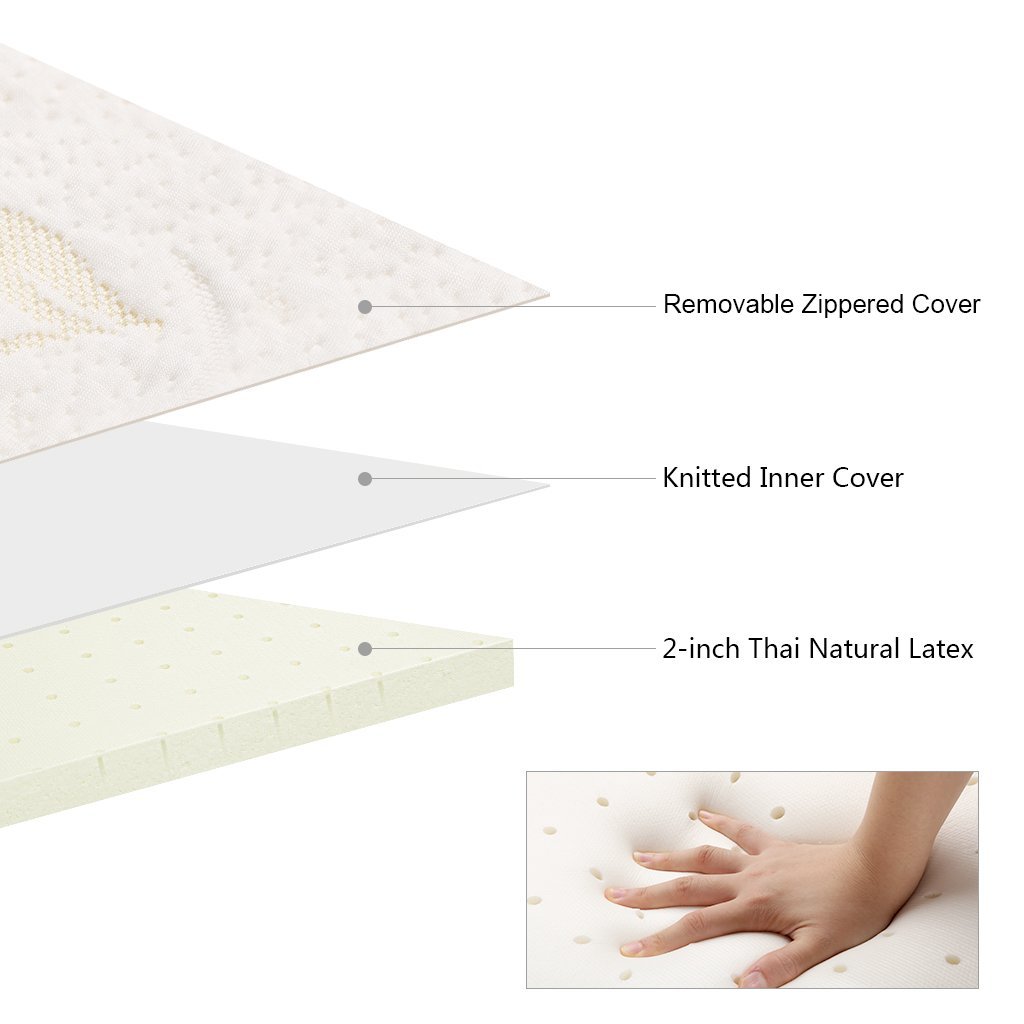 Check out the Amazon page for the Langria topper, and you will see that it has all the markings of a 100% natural latex foam topper. However, the one thing that is missing from the product page is any mention of it being 100% natural latex. I emailed the company just to be sure and, just as I suspected, this topper is made of a blend of natural and synthetic latex.
Equally deceiving is the question and answers section of the same Amazon product page for the Langria topper. Someone asks whether Langria topper is natural latex or blended foam, and someone else replies that they think it's 100% natural, at least that is what they thought when they bought it. It is unclear whether this person is a company representative or just someone who bought the product and is answering questions about it.
Rest assured that any product featured on NaturalMattressFinder.com is either organic or 100% natural. In other words, I don't feature any products on the site that use toxic materials.
Some products that are labelled as 100% natural use synthetic materials like nylon thread. The term 100% natural refers to the core materials of the product, which in the case of mattresses and toppers is the natural latex foam derived from the rubber tree.
Here's the rundown of the Langria topper. Note that I do not recommend this product. I've simply included it in my list to prove a point. So look for a mention of 100% natural latex if your goal is to get a latex foam product that is pure and not blended.
Made from high-quality latex derived from the Havea Braziliensis trees in Thailand.
Non-toxic, dust mite resistant, mildew resistant and hypoallergenic
Durable Dunlop foam will not sag
Medium firmness gives you the right amount of firm support and fluff. Get through the night with adequate support.
It comes with a removable and washable bamboo fabric cover that protects the topper and increases its durability.
"Pin Core" ventilation technology ensures that the mattress remains cool while you sleep.
The Langria mattress topper is the only topper in our lineup that comes with its own custom-fitted cover. This not only protects your mattress but also saves you the time of finding a cover for a topper that doesn't include a cover.
Please note that this is a blended foam product. The product description does not include any mention of 100% natural latex, which is a sign that it is made of natural latex blended with synthetic foam.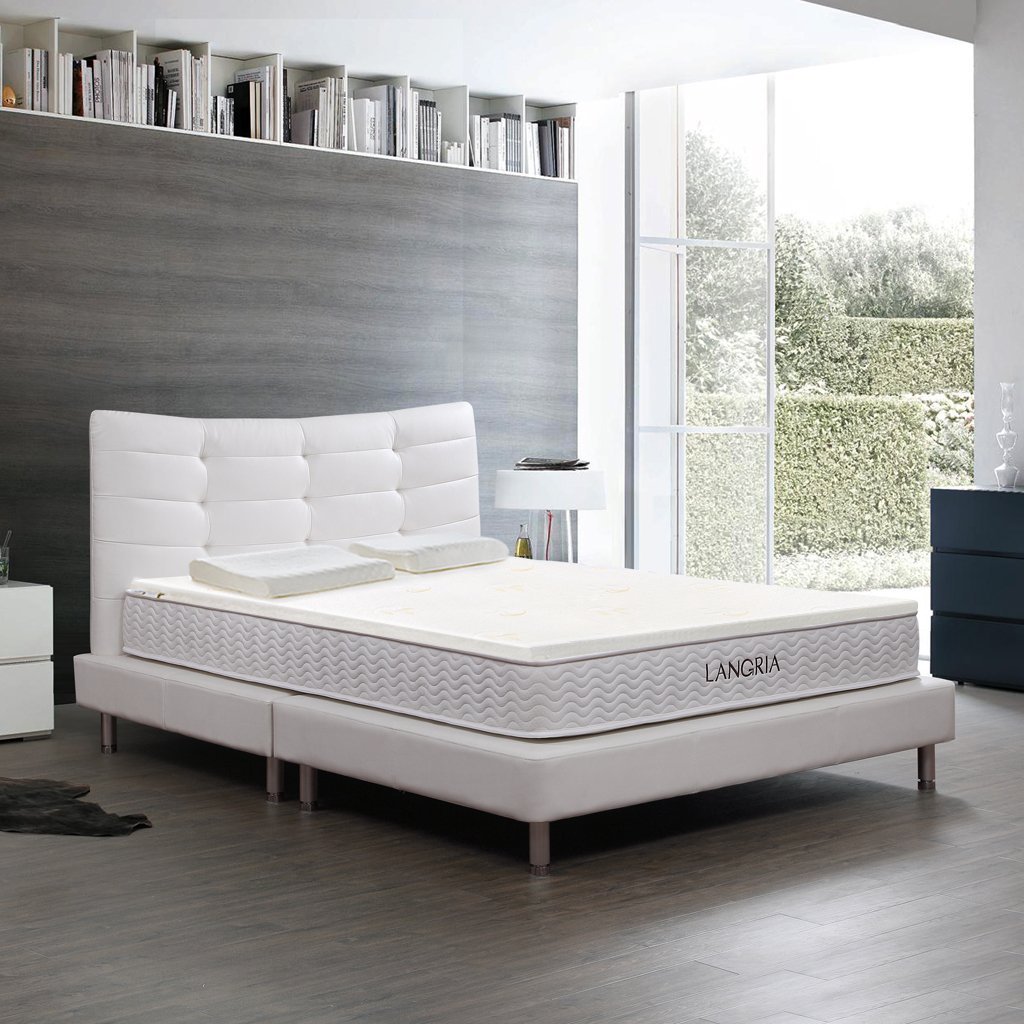 Langria also carries memory foam and gel foam on their website. There is nothing inherently wrong with this, but it is congruent with the fact that their "latex" foam topper is made of blended foams.
One Thickness Fits All
The Langria topper is medium-firm and is only available in a 2" thickness. This thickness is fine for most applications. The latex topper is available in all standard mattress sizes including twin, twin xl, queen, king and California king.
---
100 percent natural Dunlop Latex gives you the ultimate support layer to add to your mattress.
Dunlop natural latex foam is more durable than memory foam and is environmentally friendly
100% natural latex foam is hypoallergenic, dust mite resistant, mould resistant and mildew resistant.
Renew your current mattress or completely overhaul it with a 3" natural latex topper.
Available in soft, medium or firm.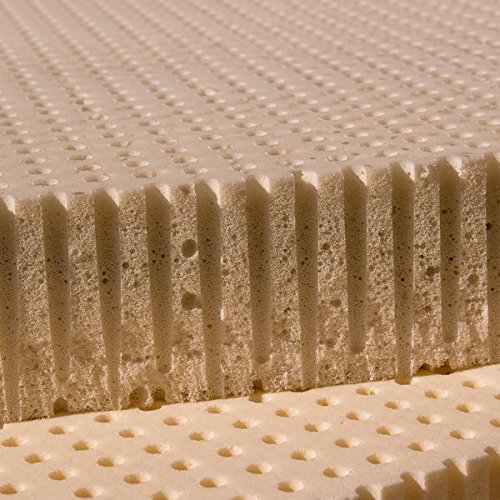 Improve your current sleeping surface with a 100% natural latex topper from the Latex Mattress Factory. This topper will instantly transform a compacted, sagging or ageing bed into a lofty, supportive surface that will support your body during restorative sleep.
This topper is hypoallergenic, meaning that it is unlikely to cause an allergic reaction to the user. Additionally, it is made with organic raw latex. It is made by frothing up the sap of the rubber tree and then steam baking it inside a mould. The mould has many metal spouts that inject hot steam into the liquid latex. In turn, these rods leave behind ventilation channels that aid in the prevention of overheating during the night. Because of its cell structure and air bubbles throughout its structure, Dunlop foam will naturally ventilate away excess heat that your body creates.
In some cases, Latex Mattress Factory's toppers can be used to alleviate joint and muscle pain, lower backache, sciatica and shoulder pain without having to replace your entire mattress. It's a great way to get the health benefits of latex foam without having to spend the money for a completely new mattress.
Latex Mattress Factory's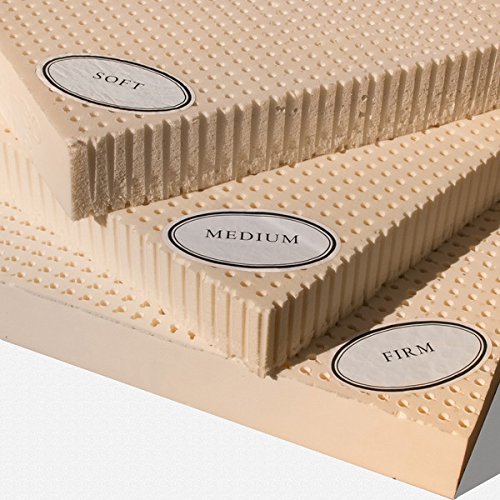 toppers are made in Sri Lanka and are certified by Oeko-Tex and Eco Institut. This certification ensures that the product does not contain any VOCs (volatile organic compounds), synthetic ingredients, fillers or carcinogenic and toxic fire retardants.
Latex Mattress Factory's toppers can also be used to build your own DIY mattress from the bottom up. It is available in 1", 2" and 3" thicknesses. With this extraordinary variety of natural latex topper thicknesses, you can mix and match layers to give you the ideal mattress height. Each size is available in soft, medium or firm.
The Latex Mattress Factory topper is available in 2" twin, 2" twin XL, 2" full, 2" queen, 2" cal king, 2" king, and 3" twin, 3" twin XL, 3" queen, 3" cal king and 3" king.
---
Ultimate Sleep  Blended  Foam Latex Mattress Topper Pad
Not recommended if you're looking for a 100% natural latex topper. The material is blended foam.
Blended latex foam available in all sizes and 2", 3" and 4" thicknesses.
4.75lb density – 16-18 ILD
Dunlop latex is hypoallergenic, anti-microbial and sleeps cool.
Air ventilation channels help move excess heat away from your body while you sleep.
Natural latex foam provides superior support when compared to polyurethane foam, and it's more durable.
The Ultimate Sleep topper is made of synthetic and natural latex. Dunlop latex is springy and resilient, so changing sleeping positions during the night will be effortless. This topper is at a density that is suitable for heavier body weights and will regain its original shape time and time again.
The sleeping surface is on the firmer side. This topper is suitable for heavy set people or for those who like a firmer sleeping surface.
The Ultimate Sleep topper features variable hole sizing, which makes for targeted orthopedic support. The foam is more supportive in areas where you need it most and plusher in places where you can appreciate the softness.
The hip and midsection areas will have a more supportive feel than the extremities giving you the ultimate natural sleep experience.
Try It Risk-Free
The Ultimate Sleep 100 percent natural latex topper comes with a 30 day trial period. There are no restocking fees should you decide to return the topper.
Sleeps Cool
The superior ventilation that this topper achieves may help curb the intensity of hot flashes for women in menopause. Naturally breathable products are a must for women going through this stage in life.
---
Plush Beds 100% Natural Latex Topper
Crafted in the USA
Unique "Airflow" design provides a better distribution of weight and reduces pressure points
Made of 100% pure natural latex
Odour-free
Will not sag
Compressed and packaged for speedy delivery to your door in the lower 48 states
The Plush Beds mattress topper will give you the opportunity to enjoy the many benefits of 100% natural latex foam without breaking the bank. This topper comes in a variety of sizes that will fit over any bed. Enjoy the comfort of natural latex without having to replace your entire mattress.
The Plush Beds natural mattress topper is certified by Greenguard Gold, which ensures that the foam does not emit any VOCs. This certification makes this topper appropriate for use with elderly people and children.
This topper is available in all sizes and in a 2-inch and 3-inch thicknesses. You can also choose your firmness preference. Available firmnesses are soft, medium, medium-firm and extra firm.
The Plush Beds natural latex topper is the only topper in my lineup to feature an optional cover for all sizes of toppers.