About these Mattresses…
All of the natural latex mattresses in this list feature either Dunlop or Talalay natural latex.
Find out what sizes are offered, price, shipping, materials and many other features that will help you in selecting the best mattress to meet your needs.
We've put together this list to help you make an informed decision amid a sea of offerings in natural latex mattresses.
Tip: If you're not sure whether you want a firm or plush mattress, take a look at the 9″ two-sided mattress from Latex for Less.
Pricing For Natural Latex Mattresses
All pricing on the natural latex mattress comparison chart is based on queen size mattress. The thickness and materials vary from one manufacturer to the next. Be sure to check out the specifications that might affect the pricing of a mattress.
Click on any mattress image if you would like to have more information about certifications, shipping, materials, manufacturing process, and warranty.
Prices for natural latex mattresses mostly depend on materials. For instance, organic mattresses that feature toppers and a coil foundation with different zones tend to be more expensive than those without. The least expensive natural mattress will usually feature a natural latex foam core and a wool and cotton top layer. The less expensive natural latex mattress doesn't make it less comfortable. It is really a question of preference. However, choosing a mattress with a built-in topper and a coil core will affect the price.
If you are looking for a cheap non-toxic, chemical-free natural mattress, you might be more interested in Latex for Less or Eco Terra. In this case, the cheaper price of these mattresses is simply due to the fact that the mattresses do not use coils in the construction.
Scroll to the right to see more mattress specifications. The scrollbar is at the bottom of the chart.
Manufacturer
Visual
Check
latest price
Materials

Firmness
Free Returns
Certification
Trial
Warranty
Queen
Visual
Order
now!
Brentwood Home
Cedar Mattress
Organic cotton, Hydrated silica, New Zealand Wool, Natural Latex medium layer, latex wafer layer, Flaxseed Fiber, coconut husk, Individually wrapped coils.
Medium
✔
CertiPUR-US Certified, Eco-INSTITUT® certified (latex),
GOTS (cotton)
120 nights
25-year limited
80"L X 60"W X 13"H - 135 Lbs
Brentwood Home
Cedar Mattress
Avocado
Avocado Green Standard
100% naturalDunlop latex,
Natural New Zealand wool
Organic cotton.
Pocketed coils
Hydrated silica
as the fire retardant.

Gentle Firm
✔
GREENGUARD Gold (VOC's standards)
Eco-Institut (latex)
OEKO-TEX® Standard 100 (Wool)
GOTS-certified (cotton)
100 Nights
25-year limited
60"x80"x11" - 97 lbs.
Avocado Green Standard

by Avocado



My Green Mattress
Natural Escape


Organic cotton quilted cover, Wool, Natural Dunlop latex,
15.5, 14.5, and 13.3 gauge coils. 3 zone pocketed coil system.
Medium
✔
GOTS (cotton), GREENGUARD Gold (low VOC's), Oeko-Tex (wool), GOLS Certified (latex).
100 Nights
10-year
59" X 79" X 11" - 110LBS
Natural Escape

by My Green Mattress

Eco Terra
The Eco Terra Mattress
Natural latex, Organic cotton (streched, not woven), fabric encased coils 16 Gauge USA Steel.
Medium or Medium-Firm
✔
OEKO-TEX Standard 100 (latex)
90 Nights
15-year limited warranty
60 x 80 x 11 - 100 lbs.
The Eco Terra Mattress

by Eco Terra

Latex for Less
9'' 2-sided mattress
(one side firm other side plush) also available in 10" and 13"
Organic cotton, 100% natural wool fire barrier, medium natural latex layer, firm natural latex layer.
Selling point: flip for firm or medium firmness.
One side medium, other side-medium firm
✔
GOTS (cotton), OEKO-TEX (latex), Eco-Institut
30 days (Amazon.com)
20-year limited
80 x 60 x 9 inches - 132 pounds
9'' Two Sided Mattress

by Latex for Less
Click and drag the scrollbar to see more…
---
eco-INSTITUT® certified natural latex
OEKO-TEX® certified wool
flaxseed fiber pad
GOTS® certified organic cotton
5-zone coil support
Hand-tufted Euro-top design
medium-plush feel
Natural latex beds have been the go-to solution for health-conscious people. 100% latex foam is a truly remarkable material, providing support without all the harmful chemicals. However, sometimes latex foam has its shortcomings for certain people.
Flat layers of latex foam have a bouncy and heavy quality to them, thereby creating pressure points on the sleeper's body. This means that the pressure around the shoulders and hips will be far superior to the pressure felt on the legs, midsection, and arms. Brentwood home has solved this problem by using a computer designed 3-zone latex foam layer that alleviates excessive pressure points. The 3 zone latex layer is designed with lower density foam in the hip and shoulder zones. This also reduces motion transfer for partners.
The Cedar Mattress is one of the most natural beds you can find online. It is made by combining layer upon layer of natural and certified materials: natural latex, organic coconut husk, and GOTS certified cotton.
The materials within the Cedar Mattress allow for a cooler sleep without the use of any synthetic materials. The New Zealand wool fire-barrier and comfort layer aids in wicking moisture away from the body. Additionally, the Dunlop latex layer has many channels baked within it to evacuate excess heat. Dunlop latex has a large, open cell structure, which increases the ability to regulate body temperature.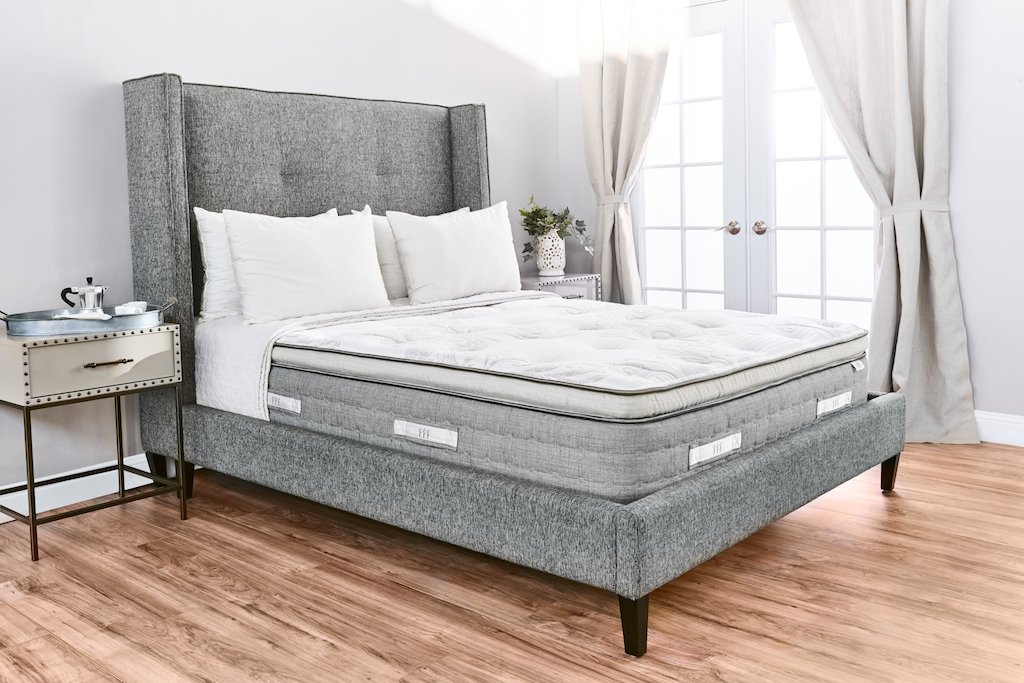 These materials in combination provide a natural and anti-microbial sleep surface. It is non-toxic, and no pesticides or harmful chemicals are used in production. The Cedar Mattress is backed by a 25-year limited warranty and comes with a 120-night satisfaction guarantee. It is delivered to your door with free shipping and returns pickup should you decide its not for you.
What people are saying:
Sweet dreams!

"Pricing is fair for the quality that you get with this mattress. The packaging is awesome… shipping is quick and efficient. I didn't notice any offgassing/fumes. After 2 months of use it's a "keeper" and I can look forward to many more sweet dreams. If in doubt, try it out."

Sue W. May 9th, 2018
Read more reviews about the Cedar Mattress
---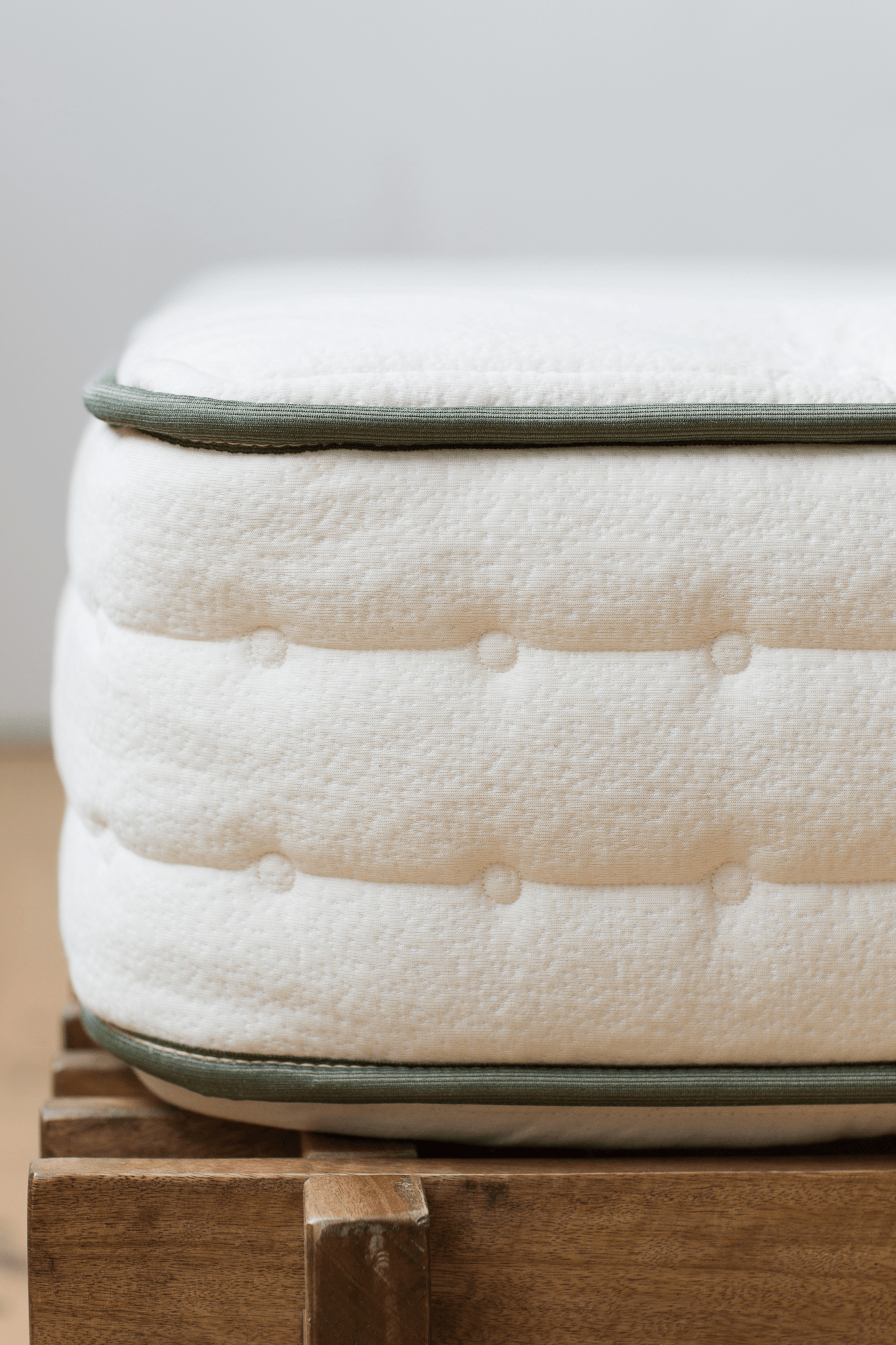 by Avocado
Button-tufted by hand
Ergonomic support coils
Heavy-duty handles for moving
Hydrated silica and New Zealand wool as the fire barrier
Safe & non-toxic; free of toxic chemicals and VOC's (Volatile Organic Compounds)
Greenguard Gold Certified by UL environment for VOC's
Free shipping, 100-night trial, and a 25-year warranty
The Brentwood Home Cedar and the Avocado Green Standard falls into the premium category of natural latex mattresses because of their hybrid construction and certifications. Like the Cedar mattress, the Avocado Green Standard is a hybrid mattress, meaning that it has a natural latex layer supported by individually pocketed coils. The pocketed coils offer pinpoint support while maintaining airflow and motion isolation.
Like the Brentwood Home Cedar, the Avocado Green has a pillow top option but doesn't feature the tri-zoned latex foam layer.
The Avocado Green Standard features nature's finest materials to provide you with restorative rest without all the chemicals. All the materials used in its construction are either natural or organic. No synthetic blends or fillers are used.
The materials in the Avocado Green Standard are Eco-Institut certified, 100% natural Dunlop latex, OEKO-TEX Standard 100 certified natural wool and GOTS certified organic cotton as a soft outer cover.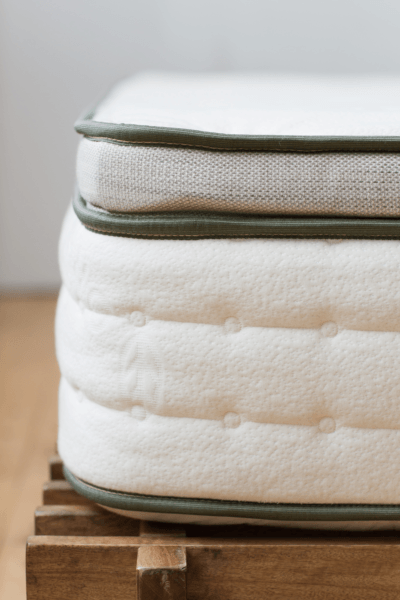 For those looking for a firmer feel, the Avocado Green Standard at 11 inches high will provide amazing support with the combination of the natural latex and the zoned coil layers. This model is ideal for back and stomach sleepers. However, if you sleep on your side full-time or you occasionally switch to your side during the night, the pillow top version will be the best fit.
The pillow top offers a luxuriously plush feel, with an added 2″ attached 100% topper layer. At 13-inches in total height, the Avocado Green provides a luxurious feel for side sleepers and those that prefer a plusher mattress.
Here's what people are saying about the Avocado Green Mattress:
Love my Avocado!

"I absolutely love my new Avocado Mattress! I've never experienced such a high degree of comfort from a mattress before. After several months of searching and reading nearly every review of all kinds of natural mattresses, I decided to buy the Avocado. I'm so glad I made the descision. It has been a life changer for me."  

Nancy M. May 31st 2017

Read more reviews about the Avocado Green Standard & Pillowtop
---
Certified by Greenguard Gold
3-zone pocketed coil system
3-inches of 100% all-natural Dunlop latex  certified by GOLS
Organic quilted cotton cover certified by GOTS
Wool fire barrier certified by OEKO-Tex
Can be placed on the floor, box spring foundation, platform bed or adjustable bed.
10-year warranty and 100-night trial
The Natural Escape by My Green Mattress features 3-inches of natural latex on a 3-zone pocketed coil spring layer. The 3-inch natural latex layer provides a plush sleeping surface that will accommodate side sleepers as well as back and stomach sleepers. The natural latex layer is 22-24 ILD / Density: 65. If you would like more info about the ILD scale, check out my article about how the measurement is achieved.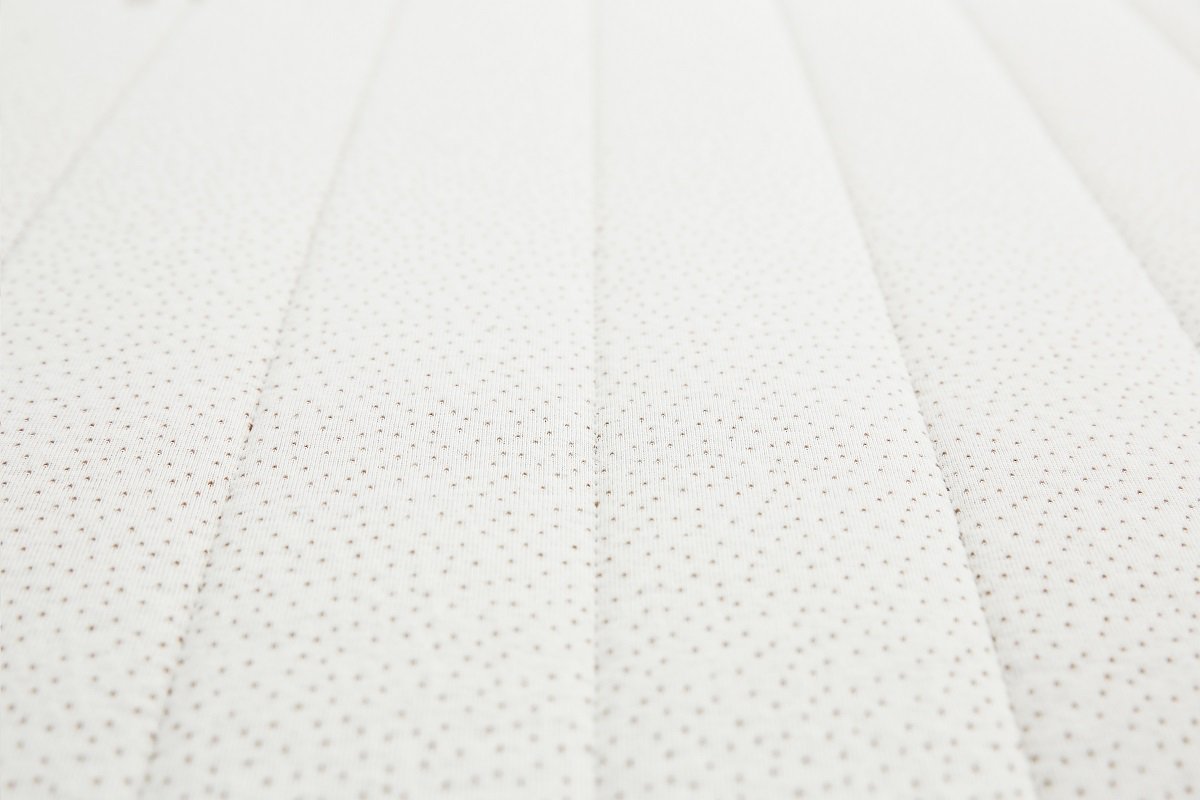 The Natural Escape is rated at 7 out of 10 for firmness where 1 is the softest and 10 is the firmest. This is clearly more on the firm side, so it is perfect for those who prefer a firmer feel. My Green Mattress also makes toppers for any size of mattress, so if you decide down the road that the Natural Escape is too firm, you can always customize it with a plush natural latex topper.
This is a one-sided mattress made with nature's finest, high-quality materials. The Natural Escape is offered at an affordable price point.
Here's what people are saying about the Natural Escape by My Green Mattress:
"I am very pleased with this purchase. The mattress is on the firm side. The delivery was on time and the rolled-up mattress was about the size of a water heater. This is the first NEW mattress we have bought in over 20 years and we didn't want a chemical mattress that has an "off gassing" period. I detected a fait non-chemical smell but my husband smelled nothing. 

Night time bathroom runs go undetected by me or my husband. The mattress does a good job of isolating motion. There is no bouncing felt when my husband gets in or out of the bed. The Natural Escape is at an affordable price too." 

Virginia C. Nov. 15, 2016

Read more reviews about the Natural Escape
---
by Eco Terra
Individually wrapped coils to minimize motion transfer
3-inch natural latex comfort layer
2 zone pocketed coils with edge support
Oeko-Tex Certified. Free of harsh irritants and heavy metals.
Available in medium and medium-firm
The Eco Terra Mattress is the perfect combination of comfort and support. The pure, luxurious feel of natural latex combined with the support of the coil layer will give you a buoyant feeling during restorative sleep.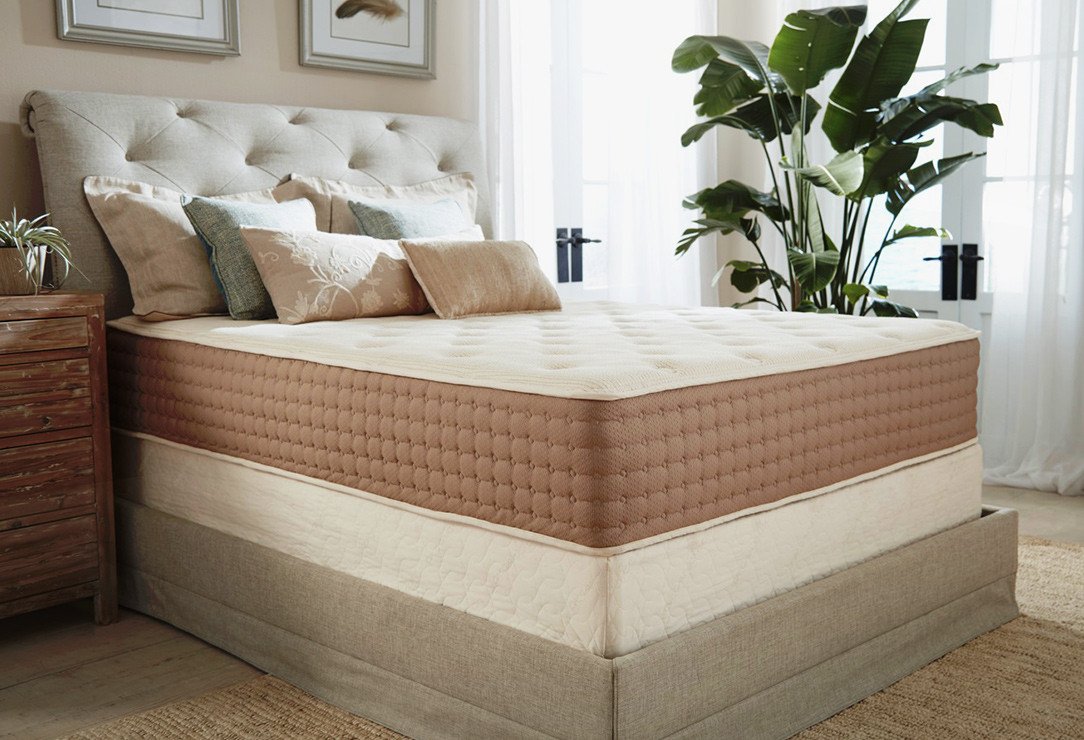 It is available in medium and medium-firm. The medium firm version has a 24-26 ILD which translated to a plusher feel. The medium firmness is ideal for side sleepers because the higher pressure points at the hips and shoulders will be relieved by the plusher latex layer.
For those who like a firmer sleeping surface, the Eco Terra Mattress is also available in a medium-firm version. The medium firm is a good choice if you are a back or stomach sleeper. The density of the latex layer is the only difference between the medium and medium-firm versions of the Eco Terra Mattress.
The Eco Terra Mattress comes with free shipping and free returns in the lower 48 states. It has a 15-year warranty and a 90-night trial. If you have doubts about which firmness you prefer, reading a couple of reviews about the mattress will give you a sense of the different firmnesses. Remember, you can always exchange the mattress for another firmness if you are not satisfied with it. Or, just add a 3-inch topper with your desired firmness to fine-tune your bed.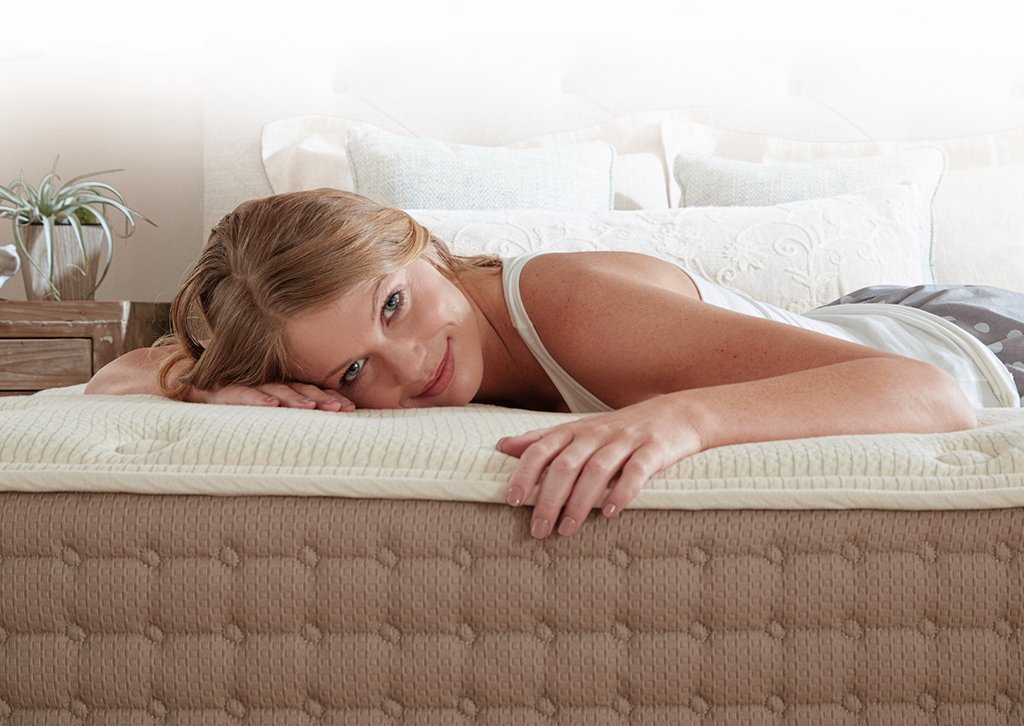 Here's what people are saying about the Eco Terra Mattress:
"Very Comfortable Mattress

I was hesitating with buying a mattress online but the fact that the mattress came with free returns made me feel more comfortable. I have been sleeping on it for 30 days now and I've been sleeping comfortably since my first night on it. The 100% natural latex top is comfortable and relieves pressure. It actually feels soothing to my body. It provides amazing support with just the right amount of softness. That's what I call a great mattress!"

M. H. May 25th, 2017

Read more reviews about the Eco Terra mattress
---
2-sided mattress. One side medium, other side firm. Fewer worries about getting the wrong firmness.
Latex only mattress. No coil layer
Natural wool fire barrier on both sides
GOTS certified cotton
OEKO-TEX certified latex
Eco-Institut certified (odors and toxicity)
The 2-Sided Mattress from Latex For Less provides incredible comfort at an affordable price. By manufacturing the mattress in-house in the USA and shipping it directly to the customer's front door, the need for a middleman is removed from the equation. This is what makes it possible to get a Latex For Less Mattress at a price that won't break the bank.
The Latex For Less 2-Sided Mattress is made with the finest quality organic cotton, natural wool and 100% natural latex. It has some of the most widely recognized certifications for natural mattresses and textiles. The GOTS, Oeko-Tex and Eco-Institut certifications give you the assurance that you are getting a quality natural mattress.
The natural latex foam in the Latex For Less mattress is made from the Hevea Brasiliensis tree that grows in the tropical parts of south-east Asia, South America, and Africa. It gives you the ultimate sleep experience and will provide you with a buoyant, cloud-like sensation when lying on it.
The 100% organic cotton cover is both soft and free of agrochemicals. Standard Cotton is one of the most damaging crops for the environment and presents many long and short-term hazards for farmers and children. The worldwide production of cotton covers 2.5% of cultivated land and uses 16% of the world's pesticides. Cotton can contain Azo dyes, NPE's, formaldehyde and phthalates even after the finished product has left the processing plant. With a Latex For Less mattress, you won't be contributing to the devastation that conventional cotton presents on the environment and on people's health.
The all-natural California wool layer helps regulate body temperature and offers superior breathability when comparing to synthetic substitutes. The wool layer acts as a flame resistant fire barrier. When exposed to a flame, it will charr but will not catch fire. The wool layer meets national fire resistance regulations without the use of carcinogenic synthetic chemicals.
With the flexibility of a 2-sided mattress, you can rest assured that you will find the perfect firmness with either the medium or the firm side. Flip the mattress to the side that feels best for you so that you can enjoy the highest level of comfort. You can use the Latex For Less Mattress on a foundation or box spring, a platform or slatted base or an adjustable base.
The 2-sided mattress from Latex For Less ships free in a small box directly to your front door. You can try it free for 120 nights and if you ever change your mind, Latex For Less will arrange a free pickup.
Let's see what people are saying about the 2-Sided Mattress from Latex For Less:
100% Latex Queen Size Bed!

"I had been researching 100% natural latex mattresses for quite some time. I was inspired by the 2-Sided Mattress because of the many certifications it had and by the ability you had to flip it over for medium or firm. I did not see any other company offer this feature. The price was the best I could find after all my research and the no-risk trial took all the risk out of purchasing my first natural latex mattress. I've had it for about a week and I'm very happy with it." 

John M. April 26th, 2018.

Read more reviews about the 2-Sided Mattress from Latex For Less
---
How To Choose the Best Natural Latex Mattress For You?
Side-sleepers or "Princess and the Pea" types
Back/Stomach sleepers
Undecided
If a luxurious, super plush feel is what you need, the Cedar Mattress by Brentwood Home or the Avocado Green with Pillowtop are great choices. The integrated pillow-top will give you a luxurious and buoyant feel.
Both these options are ideal for side sleepers because of the pressure relief that the extra layer of natural latex foam provides. Side-sleeping creates concentrated pressure on the hip and shoulder area. Side sleepers need a mattress that will adequately relieve the concentrated pressure. A side-sleeper that does not have an adequate pressure-relieving mattress can experience neck, shoulder, and back pain and can wake up feeling stiff.
The plush pillow top layer of both the Cedar Mattress and the Avocado Green With Pillow Top will help in spreading out that concentrated pressure around the hips and shoulders. Selecting the right pressure relieving mattress is essential for side sleepers to get a great sleep experience.
Back or stomach sleepers have an abundance of models to choose from that are priced lower than the Cedar Mattress by Brentwood Home or the Avocado Mattress. The Avocado Green Standard, Natural Escape, Eco Terra Mattress or The 2-Sided Mattress all have their own particular advantages but will be in the same price ranges. Note that all these mattresses except for the 2-Sided Mattress by Latex For Less are "hybrid", meaning that they combine fabric encased coils with a latex foam layer. The Latex For Less Mattress has an all latex core and no coil layer.
I hope this article has been helpful in your quest to find a natural latex mattress. Natural latex mattresses have many health, environmental and socio-economic benefits over polyurethane mattresses. Now it's just a question of finding the best one for your comfort needs. Good luck!