Plush Beds Luxury Bliss Mattress
Model &
Brand
Luxury Bliss
by Plush Beds
Visual
Check
Latest Price
Get an extra 100$ off! Apply coupon code NMF100OFF at checkout.

Mattress Type
Hybrid
Materials
Organic cotton,
Joma wool,
100% natural latex,
Fabric encased coils

Firmness
Medium,
Medium-firm
Certification
Greenguard Gold,
USDA Organic (cotton, latex),
GOLS,
OEKO-Tex Standard 100,
Eco-Institut,
GOTS Organic,
Eco Wool.
Free Shipping
✔
Free Returns
✔
Trial
100 nights
Warranty
25-year limited
Country of
Origin
Made in USA
Queen
60" X 80" X 12"
Visual
Check
Latest Price

Get an extra 100$ off! Apply coupon code NMF100OFF at checkout.
Model &
Brand
Luxury Bliss
by Plush Beds
Luxury Bliss Hybrid Mattress Review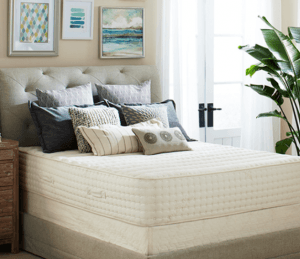 The Luxury Bliss mattress is a hybrid natural latex mattress. This means that the inner layers are composed of two distinct components: a pocketed coil layer and a solid layer of 100% natural Dunlop latex.
The pocketed coil layer is a total of 8-inches thick. The natural latex foam layer is 3-inches thick and the wool fire barrier and cotton cover make up the remaining 1-inch for a total of 12-inches.
Great natural latex mattress for a wide range of body types
Heavyweight sleepers (250+pounds): A hybrid mattress like the Luxury Bliss will keep heavyweight people afloat. The Luxury Bliss provides continuous support and pressure relief thanks to the 8-inch hybrid coil system and the 3-inch Dunlop latex layer. The 8-inch coil layer provides the necessary support that heavyweight people need and will not bottom out. All-latex mattresses that are comprised of several layers of foam without a spring coil layer are not recommended for people over 250-pounds.  The more natural latex foam is compressed, the less breathable it becomes. The same is true for polyurethane foam. A hybrid mattress can handle much more compression than an all-latex mattress and still provide pressure relief.   The 3-inch Dunlop latex layer and the 8-inch coil layer provide continuous pressure relief, regardless of the weight of the person lying on the mattress.
Medium weight sleepers (160-250 pounds): people that are around the 160-pound range tend to be most comfortable with the medium firmness, while people that are closer to the 250-pound range should consider going with the medium-firm option.
Light sleepers: petite and light sleepers are most comfortable on the medium firmness mattress. The medium-firm Dunlop layer has just the right amount of pressure relief or "give" for lightweight back sleepers, side sleepers and all-around sleepers.
Get $100 off the Luxury Bliss + $400 in FREE bedding. Use code NMF100OFF
Which firmness of the Luxury Bliss should I choose?
Side sleepers: the medium firmness is best for side sleepers because it allows for more pressure relief at the shoulders and hips. Side sleepers need more pressure relief because their weight is more concentrated at the hips and shoulders.
All-around sleepers: Choose the medium option. If you spend a lot of time sleeping on your side, then you may find the medium-firm option too hard.
Back sleepers: Back sleepers may be more comfortable on the medium-firm option. Since your body weight is more spread out while sleeping on your back, you do not need as much pressure relief as a side sleeper.
Stomach sleepers: the medium-firm option is best for stomach sleepers. The added firmness will prevent the hips from sinking too much into the mattress and create stress on the spinal column.
A complete review
Every possible specification from materials to 3-rd party certifications to warranty and manufacturing will be covered in this Plus Beds Luxury Bliss review. Don't miss the FAQ section towards the end of this article to get answers to some common questions about the Luxury Bliss.
A Hybrid Mattress made with Nature's finest and most durable bed materials
The Luxury Bliss by Plush Beds is a hybrid mattress, meaning that the inner layers consist of a fabric encased coil layer and latex foam layer. It is a hybrid between coils and latex foam. The advantage of this type of mattress is that it has the classic bouncy feeling of a spring mattress. It also ventilates very well, since air can pass freely between the coils.
The disadvantage of the Luxury Bliss is that it is not customizable. The cover of this mattress is not zippered, so you do not have access to the inner layers. Typically, customizable mattresses are latex core or "all-latex" mattresses that do not have a coil layer.
Materials
Organic cotton cover 
Joma wool 
3-inch 100% Dunlop natural latex layer 
8-inch fabric encased coil layer
The organic cotton cover, together with the Joma wool add a comfortable 1-inch of padding to the mattress. The Joma wool that is quilted into the cover material acts as the fire barrier.
Luxury Bliss 3rd party certifications
Greenguard Gold: This certification ensures that the materials in the Luxury Bliss do not emit any VOC's or toxins into the air inside your home.
USDA Organic (cotton, latex): The latex and cotton in the Luxury Bliss meet the most stringent standards for organic certification.
GOLS: The Global Organic Latex Standard monitors the latex production from the latex plantation to the final foam product. Producers must respect strict environmental and social regulations to get the certification.
OEKO-Tex Standard 100: ensures that potentially toxic ingredients in textile products are below a certain threshold.
Eco-Institut: this standard ensures that the product does not emit any harmful gasses or allergens.
GOTS Organic: this certification applies to all the textile materials within the Luxury Bliss. Notably, the organic cotton cover. In addition to the organic certification, the cotton is produced by following social and environmental standards.
Eco Wool: This is wool that has been processed by the Woolgather Carding Mill in Montague, CA. The mill follows a set of processing standards. The standards include proper grazing methods, humane predator control that relies on dogs and larger animals to keep predators at bay, healthy veterinarian practices, and chemical control. The sheep cannot graze on fields that have been treated with pesticides or herbicides.
Buying Experience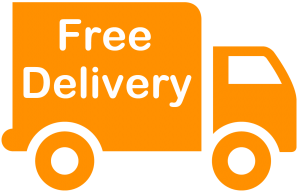 The Luxury Bliss by Plush Beds is delivered to your door free of charge. You have 100 nights to try it out and if it doesn't meet your expectations, you can return it for free for a full refund.
Since mattresses cannot be resold after a trial period, Plush Beds will arrange for a local goodwill organization to come and pick up the mattress.

Warranty and Manufacturing
The Luxury Bliss is backed by a 25-year limited warranty that covers any manufacturer's defects.
This natural latex mattress is made from natural materials that are sourced locally and globally. The latex foam is sourced from global producers. There is no latex foam production in the United States because the climate does not allow for it.
The Dunlop natural latex foam inside the Plush Beds Luxury Bliss is imported as a finished material from various global sources. Natural latex is produced in tropical regions of Indonesia, South East Asia and South America.
Sizing and Firmness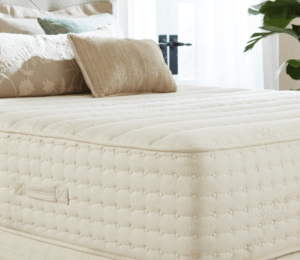 The Luxury Bliss is available in every standard mattress size:
Twin: 38″ X 75″ X 12″
Twin XL: 38″ X 80″ X 12″
Full: 54″ X 75″ X 12″
Queen: 60″ X 80″ X 12″
King: 76″ X 80″ X 12″
California King: 72″ X 84″ X 12″
Split King: 76″ X 80″ X 12″
The Luxury Bliss is available in medium or medium-firm. In the medium-firm version, the only difference is that the 3-inch natural latex foam layer will be denser and thus give you a firmer sleep surface.
Motion Isolation
The Plush Beds Luxury Bliss provides the ideal sleep surface for couples thanks to the motion isolating properties of the individually wrapped spring coil layer. Since every coil is independent, any motion created by a partner is greatly attenuated. Add the motion isolating properties of natural latex foam and you have a non-toxic bed that is ideal for couples.
The fabric encased coils also provide pinpoint pressure relief where you need it most. For side sleepers, the coils under your hips will compress and follow your body line. This helps alleviate soreness that is felt in joints and articulations.
The coils are 16 gauge with 15 gauge coils along the perimeter of the mattress. Gauges with a smaller number are thicker. The stronger 15 gauge coils along the perimeter of the mattress provide edge support while you are lying close to the side and when you are sitting on the edge of the mattress.
About the Dunlop natural latex layer
The Dunlop latex layer in the Luxury Bliss excels in breathability and contouring. Since it is a full 3-inches in thickness, it can accommodate heavy bodyweights and remain breathable.
Many people that sleep on natural latex foam for the first time notice that it gives them a light and buoyant feeling. This can be attributed to the unique contouring properties of the natural latex foam.
Besides excelling in comfort and breathability, the natural latex layer has several additional advantages:
anti-microbial properties
mildew resistant
mould resistant
inhibits bacterial growth
no off-gassing chemicals
no VOC's
no toxic chemical smell
The Luxury Bliss and Bed Frames
This natural latex mattress is compatible with a range of bed frame options:
box spring or foundation

slatted base (slats no more than 3-inches apart)
platform bed
adjustable bed
The Luxury Bliss is flexible enough to be used on an adjustable bed.
Luxury Bliss pros and cons
Pros.
All-natural.
No off-gassing.
Every material is 3rd party certified.
100-night sleep trial.
Fabric encased coils.
Made in the USA.
Most economical of 3 Plush Beds natural latex mattresses.
Cons. 
Heavier than most polyurethane mattresses but still lighter than an all-latex mattress.
Not customizable.
Get $100 off the Luxury Bliss + $400 in FREE bedding. Use code NMF100OFF
FAQ
Does the Luxury Bliss require assembly? No, it arrives at your door fully assembled. You only need to remove the plastic film that is used to compress the mattress for shipping.
Are there any fire retardant chemicals in the mattress? No, the Joma wool that is quilted into the cotton cover material acts as the fire retardant layer. The Keratin protein and moisture level of the wool make it an effective natural fire barrier. Additionally, it is soft and non-allergenic.
Are there any glues or chemicals used in the mattress? No, the Luxury Bliss is made with all-natural materials.
I currently have an innerspring mattress and I frequently wake up with bad hip pain during the night. Will this mattress help with hip pain? The Luxury Bliss isn't like your typical innerspring mattress. The coils are fabric encased and individually wrapped. That means that each coil responds independently to every inch of your body, giving you superior pressure relief, minimal motion transfer, and a luxurious buoyant feeling while you are falling asleep. The 3-inch 100% natural latex top layer is very responsive (think the opposite of memory foam), and moulds to every curve of your body while remaining breathable.
How firm is the Luxury Bliss? The Luxury Bliss is available in Medium and Medium-Firm. The medium is rated at 5.5/10 and the medium firm is rated at 6.5-7/10 with 10 being the firmest.
What people are saying about the Plush Beds Luxury Bliss
Fantastic Sleep Since We Got It

There are so many great things about this mattress, I don't know where to begin. My wife and I especially love that the Luxury Bliss is organic and won't off-gas. Our sleep improved from the first night sleeping on it. The support is consistent across the entire surface of the mattress. The coils really do provide great back support. My wife and I wake up feeling refreshed and rejuvenated.
Lonnie R. 
June 19th, 2019
Comfortable And Supportive

My husband and I decided to purchase the Plush Beds Luxury Bliss after weeks of research. Our criteria was 100% natural latex with no polyurethane foam layers, no off-gassing, and a firm feel. I'm petite at 112-pounds and my husband weighs 165-pounds.

We're all-around sleepers, but mostly sleep on our side. It has been three weeks and we really love it! It has the firmness we were looking for, and has just the right amount of "give". We enjoy the responsiveness and never enjoyed the sinking feeling you get with memory foam.

The coils give excellent support and provide the bounce that we were used to with other mattresses. The 12-inch thickness is perfect for our bed frame. Overall, we love our Luxury Bliss mattress!
Patsy M
April 10, 2019
Great Product, Great Customer Service

The Luxury Bliss is very comfortable and supportive. The customer service was excellent and Plush Beds answered all of our questions. It has been 100 nights of amazing sleep and up to this point, we have been very satisfied.
Janet T. 
March 20th, 2019
Plush Beds Luxury Bliss Natural Latex Mattress Review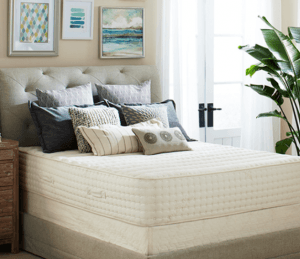 The Luxury Bliss mattress is a hybrid natural latex mattress. This means that the inner layers are composed of two distinct components: a pocketed coil layer and a solid layer of 100% natural Dunlop latex.