Model &
Brand
2- Sided Natural Dunlop Latex Hybrid
by Idle Sleep
Visual
Check
latest price
Mattress type
Hybrid
Materials
Organic Cotton
1" Wool,
3" Dunlop Latex,
6" Pocketed Coils,
3" Dunlop Latex,
1" Wool,
Cotton Cover
Firmness
Medium,
Luxury-Firm,
Medium one side Luxury-Firm on other side.

Queen
60 X 80 X 13
Certification
GOLS
Free Returns
✔
Free Shipping
✔
Ships to Canada
✘
Trial
546 days
(18 months)
Warranty
Lifetime
Visual
Model &
Brand
2- Sided Natural Dunlop Latex Hybrid
by Idle Sleep
Check Latest
Price
Watch A Video Review Of The Idle Sleep Latex
The Idle Latex Hybrid Review – The Least You Need To Know
The main advantages of the Idle Sleep Latex are:
2-sided mattress
18-month trial
Lifetime warranty that covers sagging and body impressions.
Easy & free returns.
What is it made of?
Organic Cotton
1″ Wool,
3″ Dunlop Latex,
6″ Pocketed Coils,
3″ Dunlop Latex,
1″ Wool,
Cotton Cover
Features
All-natural materials.
No glues or dyes.
Eco-friendly & non-toxic.
No VOCs or fire-retardant chemicals.
Over 1000 coils in Queen size give amazing support & motion isolation.
Quantum Edge coils are stronger coils around the perimeter of the mattress that ensure edge support.
The Idle Sleep Advantage
18-month trial & free returns
Super durable since you can flip the mattress over and extend the life of the comfort layer.

A Detailed Idle Latex Hybrid Review
A Wool Fire Barrier
Chemical fire retardants that are used in conventional polyurethane mattresses can emit VOCs into your home environment. Many VOCs are very toxic for health, and their longterm health effects are mainly unknown because of the lack of long-term health studies on new chemical compounds that enter the marketplace.
VOCs are volatile organic compounds that get released into the air. Most VOCs get released into the environment when a mattress or upholstery product is new. Ever notice that "new car smell" after opening the door of a brand new vehicle? The VOCs are much more noticeable because they are trapped within the confined space of the vehicle's cubicle.
The same phenomenon takes place with polyurethane products that are treated with chemical fire retardants. Both the polyurethane and the fire-retardant chemicals will off-gas toxic VOCs into the air, which is detrimental to your longterm health.
The Idle Latex Hybrid mattress uses a natural wool layer instead of a synthetic fibre layer doused with fire retardant chemicals. Thanks to the wool fire barrier, the Idle Sleep mattress passes the UL flammability test without the use of toxic chemicals.
Not only does the fire barrier in the Idle Latex Hybrid consist of 100% natural wool, but it also helps wick away excess moisture. This means that you will sleep more comfortably and will be less prone to overheating.
Choice Of Natural Dunlop or Talalay Latex Foam
The Idle Latex Hybrid is available in either Dunlop or Talalay latex foam. There is no major difference between the two types of natural latex foam in terms of feel. In other words, you can find your ultimate level of comfort on both Dunlop and Talalay latex.
Talalay has a more consistent air bubble structure, while Dunlop is more irregular. Dunlop and Talalay are made in a variety of firmnesses.  How you feel while lying down on either type of foam is subjective. But some people feel that Talalay is better for pressure relief because it is softer.
In this Idle Latex Hybrid review, I haven't done an A/B split test of Dunlop and Talalay, but I can assure you that Dunlop latex foam offers amazing pressure relief, even for side sleepers.
The foam in the Idle Latex Hybrid is GOLS certified. This certifies that the latex foam is organic and that it doesn't emit any harmful VOCs.
Since the Talalay manufacturing process requires more steps and is more complex, it is more expensive to produce. You will see a significant price difference in the Talalay vs. Dunlop on the Idle Latex Hybrid product page.
Certifications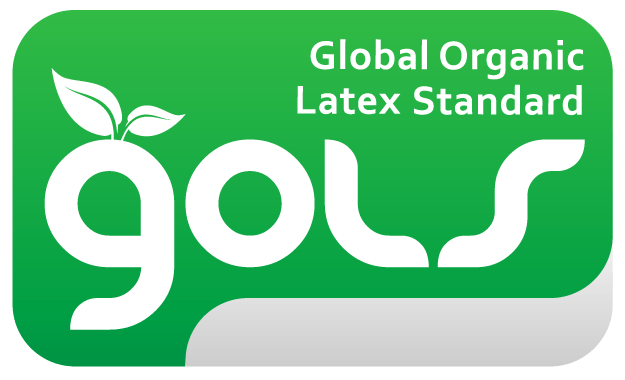 The GOLS certification certifies that the Dunlop or Talalay latex foam component is organic. The GOLS certification ensures that the latex foam contains at least 95% certified organic raw material. The other 5% of ingredients must be non-toxic, as the latex foam must also pass an emissions test. Some non-toxic ingredients are required to make latex foam.
Which Firmness Should I Choose For The Idle Latex Hybrid mattress?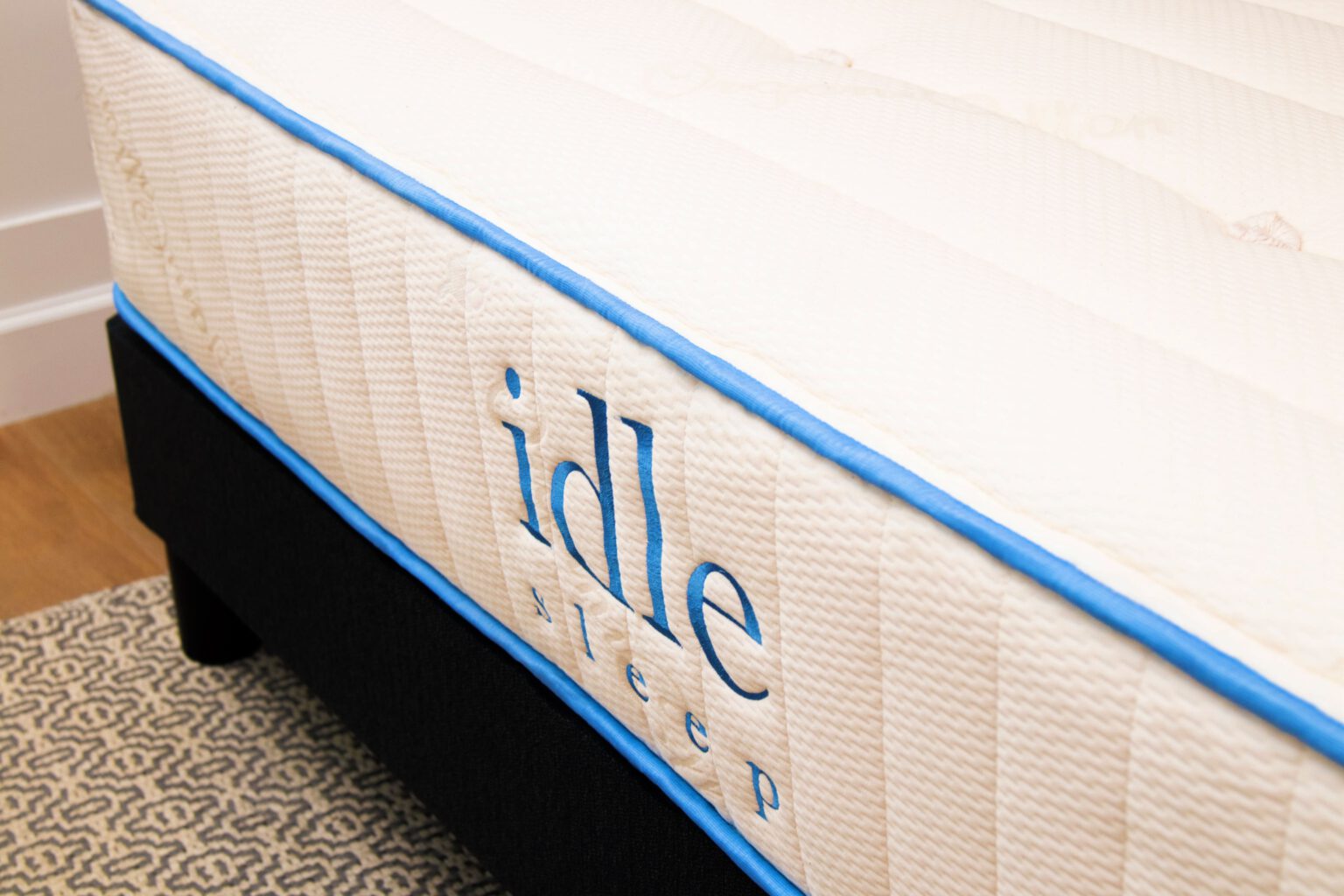 The Idle Latex Hybrid is 13-inches thick and offers medium, firm and one side medium – other side firm. Most people sleep very comfortably on the medium firmness mattress.
Here are a couple of suggestions to help you choose the right firmness. In any case, you don't need to worry about choosing the wrong firmness, because you're backed by Idle Sleep's 18-month sleep trial.
Weight
Average Weight (Below 220 pounds): Choose the medium firmness. Most people get transformative sleep on the medium firmness and the support coils aid with support, motion isolation and pressure relief.
Heavy Body Weight: If you are above 350 pounds, consider going with the firm. Use your current mattress to gauge your firmness preference. If you sleep fine on a medium firmness mattress, then continue with that firmness. If you feel you are sinking into the mattress, go with the firm option or choose the one side firm, one side medium option. If you are above 300 pounds, consider going with the firm option, as the comfort layer will give you the most pressure relief without being too compressed.
Sleeping Preference
Back Sleeper: sometimes firm may be ideal since your body weight is more spread out while sleeping on your back.
Side Sleeper: most side-sleepers sleep wonderfully on the medium firmness since it allows for more pressure relief at the hips and shoulders.
All Around Sleeper: The medium firmness is best unless you particularly like a firm.
Stomach Sleeper: typically, stomach sleepers enjoy a firm mattress. The hips will sink less into the comfort layer, which minimizes the arch in the lower back.
Children & Teenagers
Pediatricians recommend firm mattresses for very young children. Older children and teenagers generally get good restorative sleep on the medium firmness. If in doubt, the medium-firm two-sided mattress is a great option. Your child can choose their preferred firmness as they grow.
Foundation Options
The Idle Latex Hybrid is compatible with most mattress foundations, including:
Foundation (boxspring).
Adjustable base.
Slatted base (slats no more than 2″ apart).
Platform bed.
Buying Experience
The Idle Latex Hybrid buying experience is excellent and they truly take all the hassle out of purchasing a mattress. When you order online, you get:
Free returns
Free shipping
546-day trial (18 months)
You only need to find a place for your old mattress. Many charitable organizations can pick up your old mattress at no charge. Idle Latex Hybrid offers chat support during normal business hours.
FAQ
Why a two-sided mattress?
Many conventional mattress manufacturers have switched to making one-sided mattresses in order to cut down on costs. Although Dunlop latex foam is much more durable than polyurethane, its lifespan is also limited. With a two-sided mattress, you can extend the life of your mattress even longer. Alternatively, if you are unsure about whether you want a medium or firm, you can choose a medium/firm 2-sided mattress and decide later which firmness gives you the best sleep.
Does the mattress have any smell or off-gassing?
When I took this mattress out of the box, there was no offensive smell. It only smelled slightly of new cotton, which is quite pleasant. The cotton cover is made of organic cotton and the Dunlop latex is certified by GOLS, so I was reassured that there wouldn't be any off-gassing or chemical smell.
What if I don't like the Idle Latex Hybrid mattress?
You have a year and a half (18 months) to decide if the Idle Latex Hybrid is for you. Idle sleep recommends that you try it out for at least 30 days before making any decision. If Idle Sleep can't make you comfortable, they will arrange to return or donate the mattress.
What is the ILD for the latex in the mattress?
The ILD for medium firmness is 20 and the ILD for the firm is 40.
Conclusion
After sleeping on both latex core and hybrid latex mattresses like the Idle Latex Hybrid, I prefer the hybrid. It has both the bounce of a traditional mattress thanks to the spring coils and the pressure-relieving qualities of Dunlop latex. When I slept on the Idle Sleep Latex for the first night, I felt immediately comfortable. I opted for the medium/firm two-sided California king, and the 13″ thickness gives it a truly luxurious feel.
I am sleeping on the firm side for the time being. It gives me the perfect pressure relief, together with the slightly firmer feel that I enjoy. Sometimes I wake up in the middle of the night (as early as 3 a.m.) and can't get back to sleep. Since sleeping on the Idle Latex Hybrid and adhering to my "no screen time after 8 p.m." regimen, I have been sleeping right through the night, and I'm ready to go at 5:30 a.m. feeling refreshed and rejuvenated.
Thanks for stopping by and reading this Idle Latex Hybrid Review. If you have any comments or suggestions, please leave them in the comment section down below.