Manufacturer
The Eco Cloud
by Wink Beds
Visual
Check
Latest Price
Mattress Type
Hybrid
Materials
Organic Cotton
New Zealand Wool
4" Talalay Latex
5-zone coil layer


Firmness
Medium
Certification
Oeko-Tex,
GOTS cotton,
Rain Forest Alliance,
Eco Initiative Recycled Steel.
Free Shipping
✔
Free Returns
✔
Trial
120 nights
Warranty
Lifetime
Queen
13″ x 60″ x 80″ –
117 lbs
Visual
Check
Latest Price
Manufacturer
The Eco Cloud
by Wink Beds
In this Wink Beds Eco Cloud review, we will be looking at why it is a suitable mattress for those looking for an eco-friendly sleeping solution. Since it is made with a Talalay latex layer and a 5-zone individually-wrapped inner-spring coil support system it may very well be the solution for someone looking for a comfortable and supportive non-toxic bed. Wink Beds manufactures each Eco Cloud mattress by hand in their Watertown, Wisconsin facility.
This Wink Beds Eco Cloud review will give you a breakdown of the major features of the mattress and will delve a little deeper into its materials, construction, and the overall sleeping experience it offers. We'll cover the necessary specs, helping you decide whether or not it will give you transformative, rejuvenating sleep.
Wink Beds Eco Cloud Review Of Mattress Components
Wink Beds brand entered the bedding space with overall wellness in mind. Launched in 2014/2015, it sources its materials domestically while focusing on sustainability. The mattress company began by perfecting its design for its original WinkBed and WinkBed GravityLux all-foam models and then transitioned to specializing in hybrid mattresses.
One of those mattresses is The Eco Cloud. The Eco Cloud mattress is a latex hybrid that capitalizes on the buoyancy of Talalay latex, recycled pocketed steel coils, and organic cotton and wool. Ranking on the medium spectrum on the firmness scale and 12.5-inch thickness, this mattress offers an effective sleep solution for sleepers who require a little more lift as they slumber.
If you are in the market for an affordable mattress with eco-friendly considerations taken into account, this might be the right fit for you. Let's take a more detailed look at each of its aspects to help you make a well-informed decision.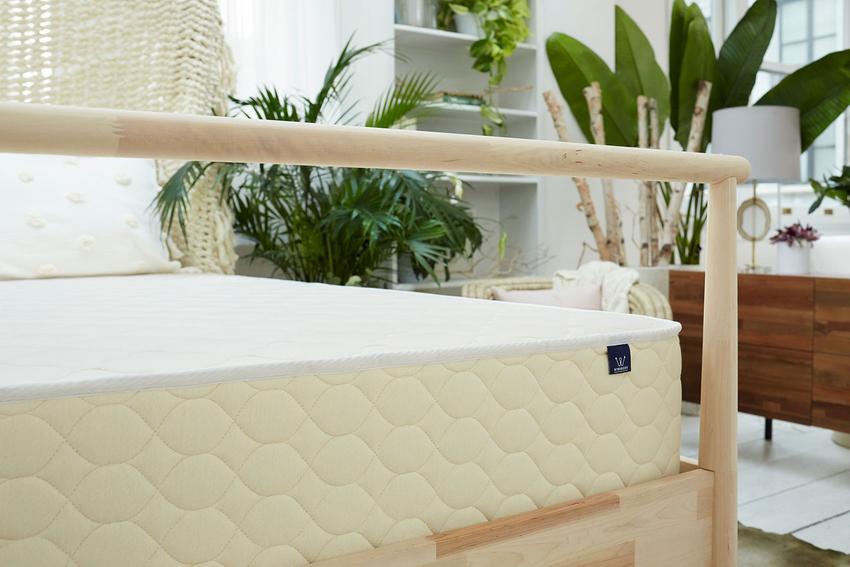 Materials
This is where the EcoCloud mattress stands out. WinkBeds aims to remain environmentally friendly and uses materials that not only furnish those goals but also offer users a straightforward design that supports their body as they rest.
The body of the mattress stands at 12.5 inches in thickness with comfort and base layers designed to cushion your body where it requires. Furthermore, EcoCloud mattresses hold the OEKO-TEX and Rainforest Alliance certification.
The Cover
The material layering begins with the cover. It is made of organic cotton and New Zealand Wool, which is Global Organic Textiles Standards certified. It's soft on the skin and has moisture-wicking capabilities that keep the surface of the mattress and the sleeper cool throughout the night.
The Comfort Layer
Underneath the cover is the comfort section, which is made out of OEKO-TEX100-certified Talalay latex. The four-inch layer is springy and has a quick response to pressure, providing immediate bounce when the sleeper gets into bed. The structure of the latex layer supports your body, especially around the shoulders and hips. Unlike memory foam, the comfort layer doesn't sink in and creates uncomfortable indentations.
The latex is not only open-cell but also features pin core holes on the top, which makes it breathable and allows air to move around and dissipate body heat throughout the mattress's structure.
The Support Layer
The mattress's unique construction features a coil layer underneath the latex section. This layer is an 8-inch thick coil support system where each coil is made of recycled, thrice-tempered steel and is individually wrapped.
The coil system gives the users some much-needed lift and additional bounce. These coils distribute the sleepers' bodyweight and provide firmer support through a 5-zoned coil system in the support layer.
The zone near the head and the one near the feet have fifteen gauge coils while the center of the mattress features 14.5 gauge coils. Combined, these coils add firmness and relieve pressure from near the shoulders, hips, and lower back.
The comfort and support layers combine to provide targeted relief for the contours of your body, keeping sensitive pressure points upright while some areas conform to your shape.
From the cover to the coils, each component of the EcoCloud mattress is designed with sustainability as a core concern. Recycled materials, natural latex, and organic cotton all stand up to the mattress's name and WinkBeds aim to provide eco-friendly cushy support.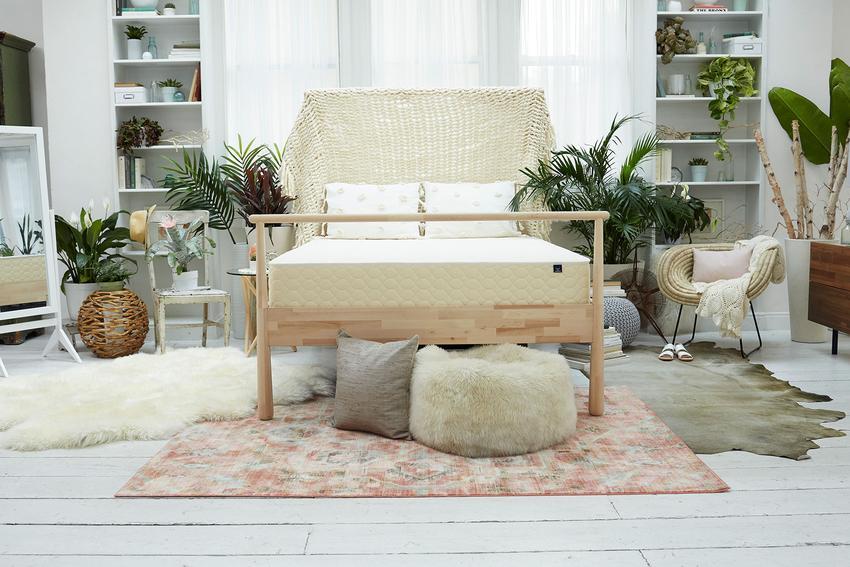 EcoCloud Mattress Performance
Firmness & Pressure Relief
The 5-zone coil system in combination with the latex layer makes up medium-level firmness. On the firmness scale of 10, the EcoCloud mattress ranks between 5.5 and 6. While on the lower end of the spectrum, this level of firmness suits a wide range of sleepers' preferences for the bounciness, support, and relief at pressure points.
The coil system cradles body parts instead of sinking in, making the surface suitable for users who usually sleep on their back or side. Stomach sleepers weighing over 230 pounds, on the other hand, may experience pressure around the hips if they sleep in that position for the entire night.
However, firmness is subjective to each user's preference. In addition, the mattress performs differently depending on the user's body shape, weight, and size.
Motion Isolation
By motion isolation, we are referring to the mattress's ability to localize movement when a person sits, lies down or puts any other kind of pressure and/or weight on the bed. The better the mattress's motion isolation capability, the less amount of movement will transfer to the other side if one person tosses, turns, changes sides, and gets in and out of bed.
This is an important feature to keep in mind if you are planning to share your bed with a partner, spouse or child. It prevents the other person from getting disturbed by any movement you make on your side.
The EcoCloud hybrid mattress ranks 3 out of 5 when it comes to motion isolation. The mattress's surface is responsive and not as effective in isolating motion when compared to memory foam or another kind of foam mattress.
The coils in the EcoCloud are individually wrapped and are not interconnected. However, they are able to attenuate movement on the mattress to a certain extent. This means that your partner will be able to feel some movement if you get in or out of bed or toss and turn although the motion is greatly reduced since the coils are individually wrapped.
This feature of this hybrid latex mattress also facilitates ease of motion. The springs have some give, which allows the user to move and change sleeping positions without their movement being inhibited.
If you are a light sleeper and easily get disturbed by movement on the bed, an all-foam mattress might be more effective in giving you a good night's sleep.
Temperature Control
If you tend to sleep hot due to body heat building up, the EcoCloud might just be the right mattress for you. Starting from the top layer, the organic New Zealand cotton and wool blend of the cover wicks moisture.
The moisture dissipates into the latex layer below, which is naturally aerated and features pin core holes. This allows body heat to breathe through instead of getting trapped around the sleeper.
Lastly, the coil system in the support layer is not connected, creating sufficient space for air to pass through and neutralize any heat that comes in from the surface. Further, since the latex and coils in the mattress don't sink in when the user lies on top, it is unlikely that heat will get trapped around them.
Reinforced Edges for Support
The perimeter of the Wink Beds Eco Cloud has additional reinforcement so that it doesn't lose its shape or bend when someone sits on the edge. This causes the foam to lose its shape and become a less comfortable sleeping solution. A reinforced perimeter prevents the "roll-off" sensation if you are sleeping close to the edge of the bed.
WinkBeds reinforces the edges of its EcoCloud mattress to prevent roll-off and sustain its structure and shape. The design features a double layer of 16-gauge coils that prevent the edges from sagging without compromising the overall firmness of the mattress. It's a part of the Extra-Edge support system that is meant to be anti-sag and bolster support along the edges.
Reinforced edges not only prevent you from feeling like you'll roll off the bed, but they are also great for those who sit or use the edges of the bed to get in and out. Overall, this feature adds to the longevity and sturdiness of the mattress.
Off-Gassing
Off-gassing refers to the odours that new mattresses tend to release after being set up. These odours are produced by gases that emanate from petroleum-based components in the mattress. When users unpack and air out a conventional polyurethane mattress after it arrives on their doorstep, it typically has a strong chemical smell, akin to a car tire shop.
This is common with mattresses that are made with synthetic foams containing petroleum-based contents and fire retardants. The chemical smell may only be noticeable for a few days or weeks, but the mattress will likely keep off-gassing for years, polluting your indoor space with VOCs that may adversely affect your health.
Since the EcoCloud mattress is made of natural materials, it may have a faint, inoffensive odour when new. The rubber-like smell comes from the natural latex coming in contact with the air as the mattress is unpacked from the vacuum packaging. It disappears as the coils expand and allow air to flow through the interior of the mattress.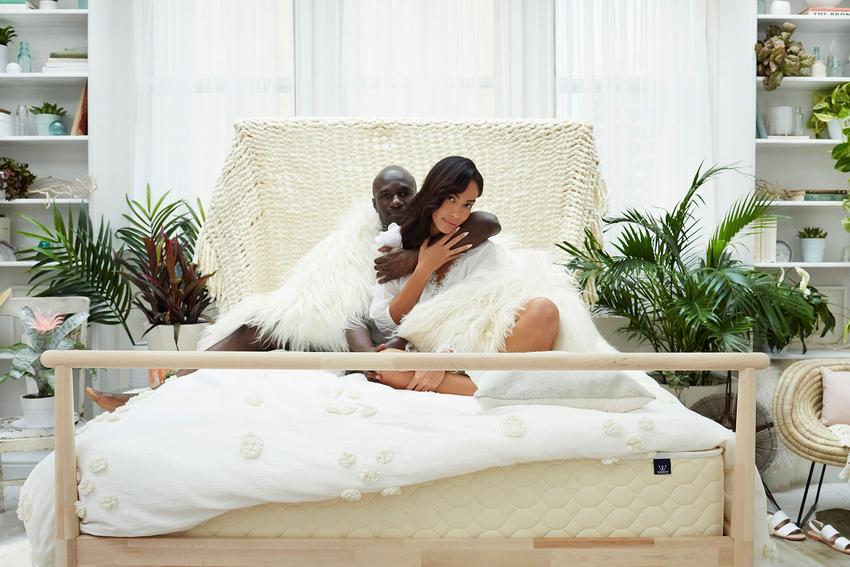 What Sleeping Styles & Weight it Supports
Lightweight Sleepers
This category refers to individuals who weigh 130 pounds or less. Users in this category, whether they sleep on their sides, back or stomach, should be able to enjoy a mix of support and relief on tension points.
Back sleepers should find ample support and relief along the spinal column
Side sleepers should be comfortable but may not be able to sink through the comfort layer into the support layer underneath;
Stomach sleepers will have spinal support but may experience pressure in their hips.
Average Weight Sleepers
People weighing more than 130 pounds and less than 230 pounds should be able to sleep through the night without discomfort. Side sleepers may have minor tension in the hips or shoulders.
Back sleepers should be able to press through the comfort layer enough to experience the support of the hybrid coil and latex system underneath. Back sleepers, on the other hand, may want to consider other options because they are typically more comfortable on firmer mattresses.
Heavyweight Sleepers
Similar to average weight side sleepers, people over 230 pounds with a habit of sleeping on their sides may experience some pressure on the shoulders and hips. This is due to them pressing through to the firmer, support layer since their body weight is more concentrated over a smaller area. Heavyweight back sleepers should experience a sufficient amount of pressure relief and find the mattress firm enough to support their spine.
Heavyweight stomach sleepers may sink into the mattress, enough for it to be too soft. Their hips may sag too far into the mattress, adding more pressure in that area. A firmer mattress may provide more support for heavyweight stomach sleepers.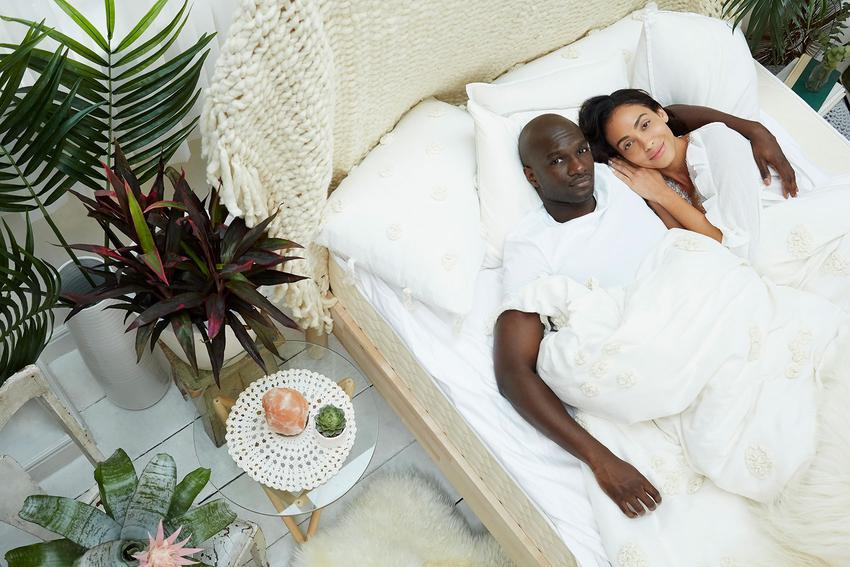 EcoCloud Sizes
The EcoCloud hybrid mattress only comes in medium firmness and a 12.5" width. It varies in terms of size, offering six variants. The dimensions and weight for each are listed below:
| | | |
| --- | --- | --- |
| Type | Size | Weight |
| Twin | 38" x 75" x 12.5" | 78 lbs. |
| Twin XL | 38" x 80" x 12.5" | 82 lbs. |
| Full | 54" x 75" x 12.5" | 100 lbs. |
| Queen | 60" x 80" x 12.5" | 117 lbs. |
| King | 76" x 80" x 12.5" | 135 lbs. |
| California King | 72" x 84" x 12.5" | 125 lbs. |
EcoCloud Mattress Prices
The prices for EcoCloud mattresses vary depending on the size.
| | |
| --- | --- |
| Size | Price |
| Twin | $1,299 |
| Twin XL | $1,399 |
| Full | $1,499 |
| Queen | $1,799 |
| King | $2,199 |
| California King | $2,199 |
While writing this Wink Beds Eco Cloud review, we found that it wasn't the cheapest mattress out there but its price is on par when compared to other hybrid latex mattresses in the market. Since the natural latex used to create the mattress is more expensive to produce, the higher cost is justified.
The structural integrity of the mattress along with other nuanced eco-friendly design considerations enhance durability and long-term performance. Consider the mattress as an investment for keeping your lumbar aligned and supported as you get rejuvenating sleep, night after night.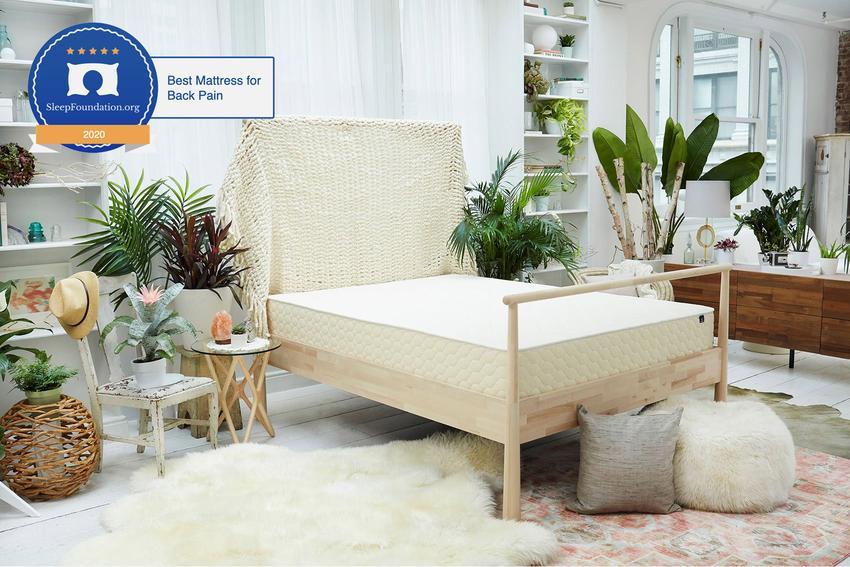 What WinkBeds Offers
Should you invest in WinkBeds EcoCloud mattress, you can expect to receive the following:
120-Day Trial
If you're not fully convinced by the mattress through reviews, WinkBeds offers a 120-night trial period. It starts on the day the mattress is delivered to you, allowing you to test whether your spine, shoulders, and hips are properly aligned and that it meets your expectations in terms of comfort
After the 30-day break-in, you can exchange the mattress or return it if you are unsatisfied with it. While returns are refunded in full, exchanges may cost you $49 more.
To pursue an exchange or return, all you have to do is contact customer support and coordinate the pick-up. If the trial period has elapsed, you can ask for a replacement. You can choose another WinkBeds model for half the purchase price of the original WinkBeds mattress you purchased.
All offers of exchange and returns are limited to one per person/household.
Purchase & Shipping
Currently, WinkBeds sells and ships its mattresses across all states. While prospective buyers in some states can visit the showroom to get a feel for the mattresses, purchases are facilitated on the website.
Shipping is free for the lower 48 states. Buyers in Hawaii and Alaska have to pay an additional $199 for delivery. The mattress is shrink-wrapped, compressed and shipped in a box and usually arrives within two weeks.
Warranty
Valid for the original buyer, WinkBeds warranty lasts for a limited lifetime for purchases made via authorized channels.
There is one replacement allowed per purchase where the company exchanges a defective mattress with a new one. You receive coverage for material and workmanship defects such as wear, degradation, cracks, >1.5-inch indents, and other physical faults. effective mattresses can be returned and customers may be cleared to have the shipping charges reimbursed.
Misused or mishandled mattresses are not covered under the Wink Beds warranty. also does not cover damage caused at the customer's end.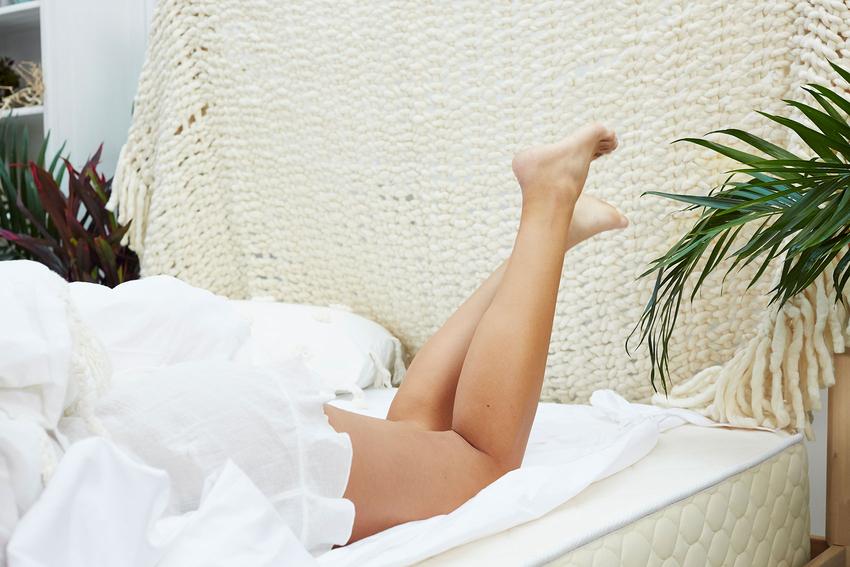 Wink Beds Eco Cloud Review Final Verdict
After going through its specs and features, WinkBeds EcoCloud is a worthy investment for those looking for an eco-friendly mattress, as well as for all-around sleepers and back sleepers that weigh less than 230 pounds.
The integration of natural Talalay latex and pocketed coils forge a product that should keep your lumbar aligned and alleviate pressure from sensitive areas as you lay your head down to rest.
If you're still on the verge of making a final decision, the 120-night sleep trial period and the summarized pros and cons listed below can help you reach your own verdict.
Pros
Produced meticulously by hand from eco-friendly materials including 100% organic cotton, natural Talalay latex, and recycled steel;
The zoned latex and coil system add firm structure and sufficient bounce for support and comfort
Suits most average and lightweight combination, back and side sleepers.
Cons
The mattress's buoyancy slightly impedes its motion isolation ability;
It may not be as comfortable for heavyweight stomach sleepers.