The New and Improved Cedar Natural Luxe by Brentwood Home
The new Cedar Natural Luxe has many improvements over its predecessor, the Cedar. The improvements affect both the function and overall customer experience. Keep reading this latex mattress review to find out what improvements Brentwood Home has made to their flagship natural latex mattress.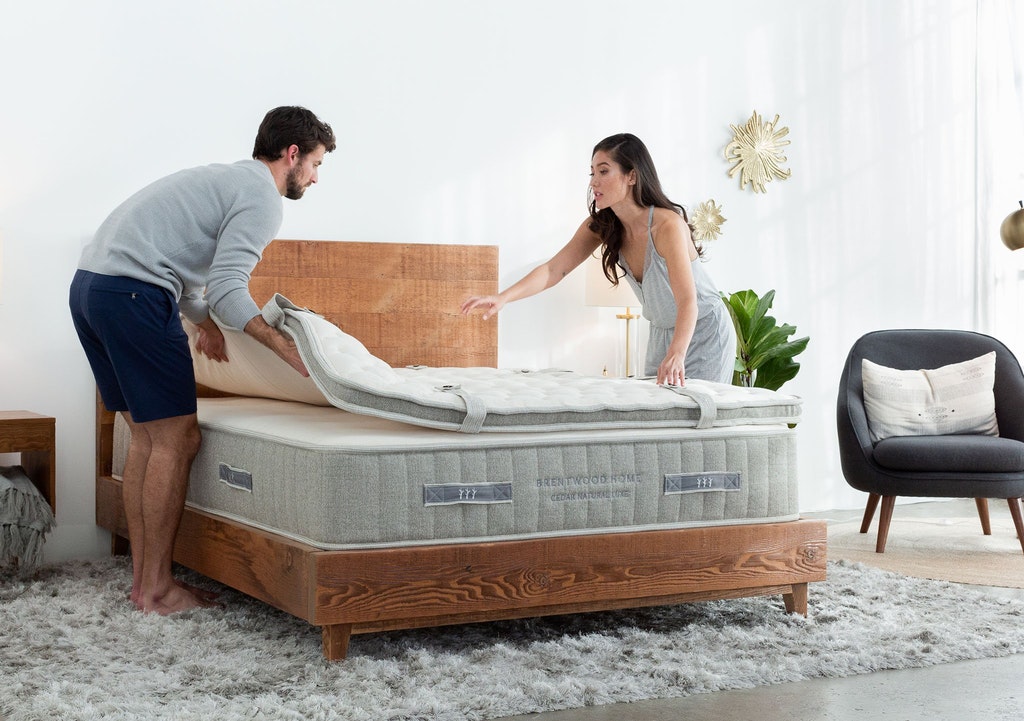 Click here To Get $100 off the The Cedar Natural Luxe with code NMF100OFF
Here is an outline of the main changes:
The New Cedar Natural Luxe vs. the original Cedar Mattress
New GOLS certification. The latex in the original Cedar mattress was not certified organic.
Alpaca wool and sheep's wool. The original Cedar had only sheep's wool.
5-zone pocketed coil layer. The original Cedar mattress had a single zone coil layer with a reinforced perimeter.
365-day sleep trial. The original Cedar mattress only had a 120-night sleep trial.
Removable pillowtop. This makes setup easier since you can move the mattress in two parts. Much lighter! The pillowtop on the original Cedar mattress was fixed.
Only available in Queen, King, and California King
Get all the specifications for the Cedar Natural Luxe in the chart below.
---
Manufacturer
Cedar Natural Luxe
by Brentwood Home
Visual
Check
Latest Price
Mattress Type
Hybrid
Materials
Organic cotton, New Zealand Wool, Alpaca Wool, Natural Latex, 5-zone Individually wrapped coils, coconut shell buttons.
Firmness
Medium plush
Certification
Eco-INSTITUT® certified (latex),
GOLS (latex)
Oeko Tex (wool),
GOTS (cotton),
Greenguard Gold ( VOC testing)
Free Shipping
✔
Free Returns
✔
Trial
365 days
Warranty
25-year limited
Queen
80"L X 60"W X 15"H
Visual
Check
Latest Price
Manufacturer
Cedar Natural Luxe
by Brentwood Home
---
The Epitome of Natural Luxury in a Mattress
The Natural Luxe by Brentwood Home is made with the finest natural and organic bedding materials available.
It features a five-zone spring coil system, organic latex, sheep's wool, and Alpaca wool. All of these high-quality materials are wrapped within a cotton cover. The Cedar Natural Luxe excels at providing pinpoint support with its 5-zone innerspring layer and a grooved and zoned Dunlop latex layer.
Please refer to my article on Dunlop vs. Talalay if you would like to learn the differences between both types of natural latex foam.
The pillowtop on the Cedar Natural Luxe Mattress is removable. Moving the mattress is easier since it can be moved in two parts.
Natural Materials in the Cedar Natural Luxe from top to bottom
Note that the pillowtop and core mattress are not sold separately. However, you could potentially remove the pillowtop in order to achieve a firmer feel.
Pillow Top
Organic cotton cover
New Zealand Joma wool: this is 100% natural and untreated New Zealand wool. This layer acts as the fire retardant layer.
Dunlop natural latex layer
Organic Cotton Cover
Core Mattress
Organic cotton cover
Alpaca wool
Grooved latex layer
Coconut fibre pad
5-zone pocketed spring coil layer
Flaxseed fibre pad
Organic cotton cover
Get $100 off the The Cedar Natural Luxe with code NMF100OFF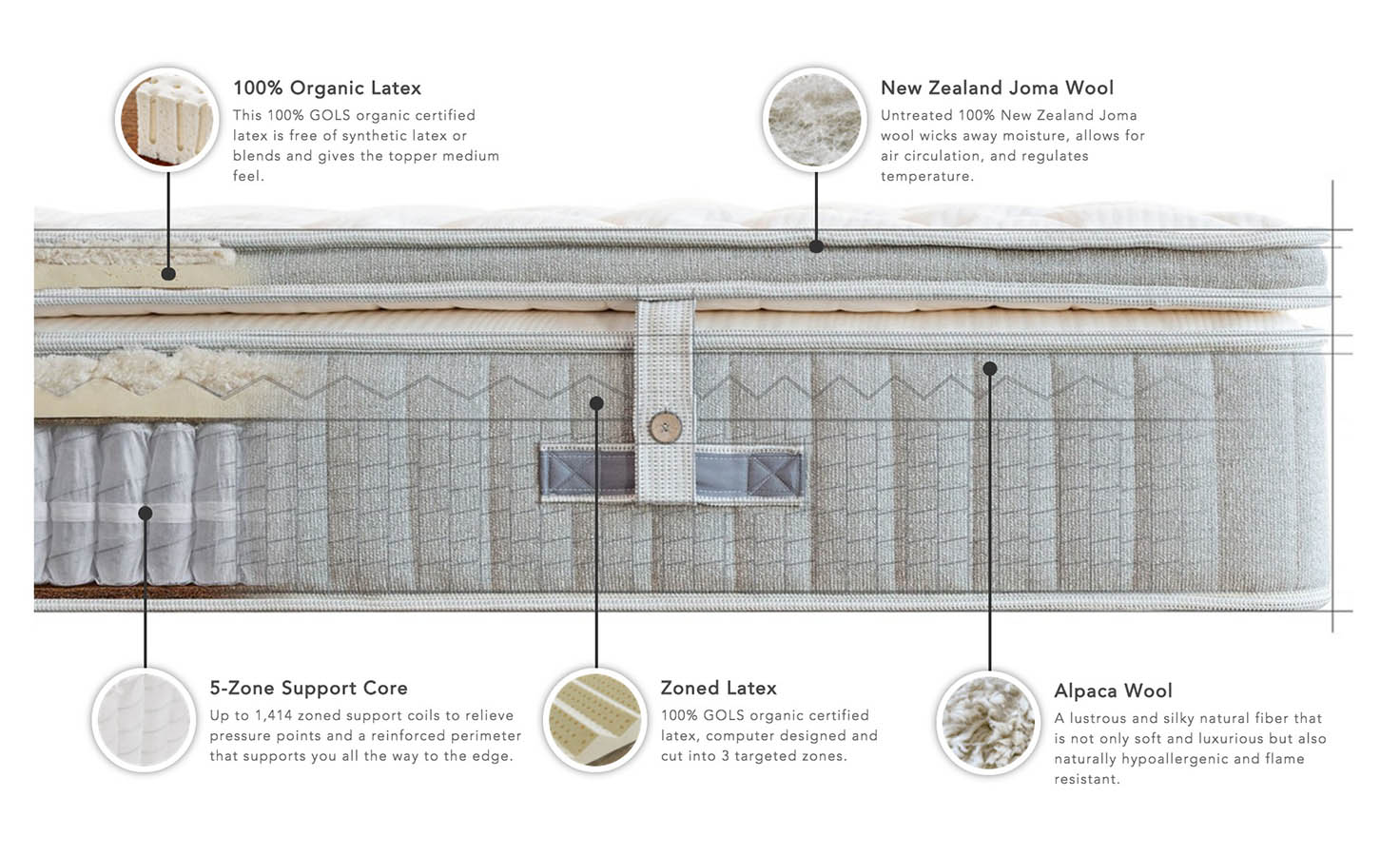 ---
Simply the most luxurious natural latex mattress on the market today
The Brentwood Home Cedar Natural Luxe mattress is made with nature's finest materials including, eco-INSTITUT and GOLS certified natural latex, Oeko-Tex Certified Wool, alpaca wool, a flaxseed fibre pad, GOTS certified organic cotton and a 5-zone coil support layer. The Cedar mattress is hand-tufted to keep all the layers in place and to help maintain a consistent feel across the entire surface. The removable pillow top on the Cedar Natural Luxe provides a medium plush feel, so it's perfect for side sleepers as well as back sleepers. At a whopping 15-inches in thickness, it can accommodate heavier body weights and a variety of sleeping styles and positions.
A New Era For Latex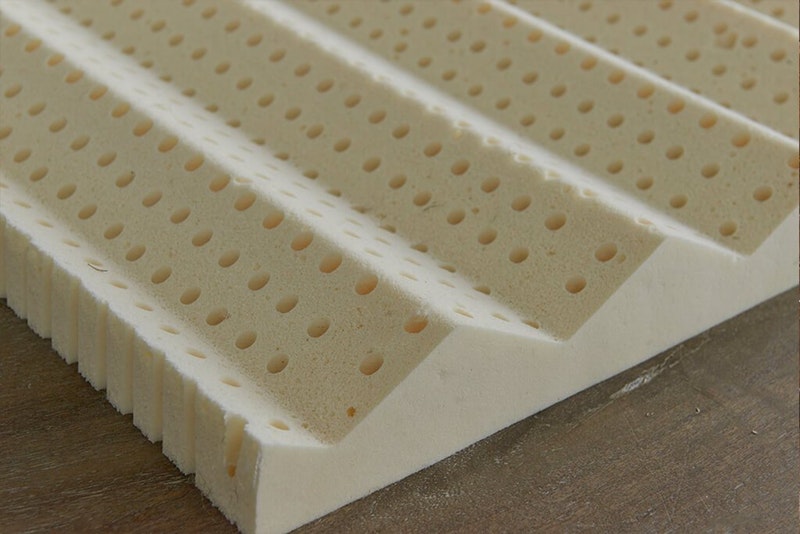 If you're conscious about your health and are wary about the long-term health effects of being exposed to off-gassing chemicals in polyurethane foam and chemical flame retardants, the obvious choice is a natural latex mattress. Latex foam is an excellent natural alternative to polyurethane foam and it's more durable.
Zoned Latex
If the latex foam is not zoned, it may result in increased pressure points at the shoulders and hips. The latex must be less dense in the area of the hips and shoulders so that it may provide optimal pressure relief.
Brentwood home has achieved this by having larger ventilation holes in the center area of the grooved latex layer. Larger ventilation holes not only increase airflow but also allow the foam to compress more easily.
The 3-zone, grooved latex layer provides targeted pressure relief for your hips, back and shoulders.
Those suffering from back pain may benefit greatly from sleeping on the Cedar Natural Luxe. The pressure-relieving quality of the zoned natural latex layer coupled with the zoned coil layer promotes proper spinal alignment during sleep. This mattress may help alleviate chronic back pain, shoulder pain, and hip pain because of the level of targeted pressure relief that it offers.
A Hybrid Mattress
The Cedar Natural Luxe Mattress is a hybrid mattress, meaning that the base layer consists of individually wrapped coils. The coils give you responsive pressure relief while attenuating motion transfer.
Brentwood Home has upgraded the coil layer to a 5-zone coil layer to provide even more pressure relief for your back, hips, and shoulders.
Additionally, the coils do wonders for limiting motion transfer since they are individually wrapped. The result is that your partner won't feel you tossing around from the other side of the bed.
Are You A Cool Sleeper?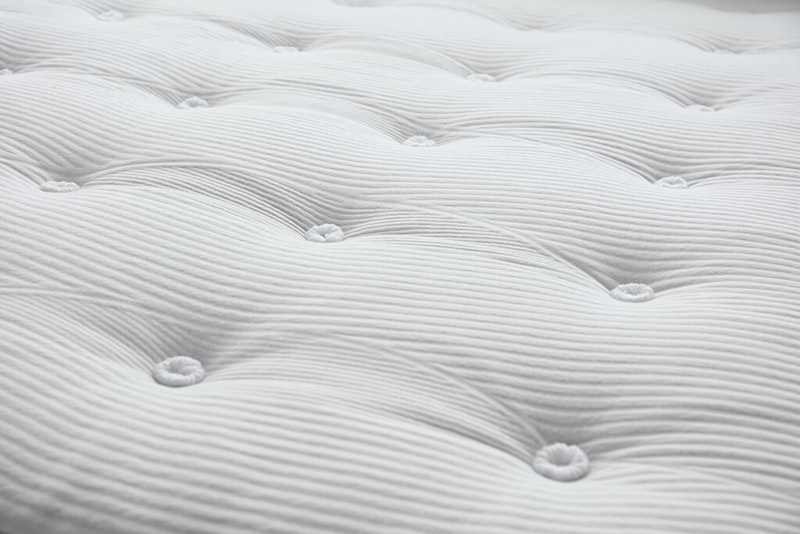 Brentwood Home has carefully chosen the most breathable natural materials without sacrificing comfort. The Dunlop latex layers offer superior breathability to any polyurethane mattress. The natural latex foam has an open-cell structure and pinholes which evacuate excess heat and humidity away from your body.
The latex layer works in conjunction with the New Zealand Joma wool to wick away moisture from your body. Don't worry, you won't be in contact with the prickly wool. You will have bedsheets, a mattress protector and the cotton cover between you and the wool. Wool's unique cell structure helps wick moisture away and act as a fire-resistant layer.
The wool layer helps to regulate your body temperature throughout all the seasons. In fact, wool hair aids sheep in regulating their body temperature. So, think about the benefits wool would have when integrated into the top layer of a mattress.
Long-Lasting Comfort, Guaranteed
The Cedar Natural Luxe mattress is backed by a 25-year limited warranty. This is one of the longest warranties among natural latex mattress manufacturers. The mattress is built to last because of reinforced edges and support layers that won't develop indentations over time.
Is It Hard Or Soft?
The computer-designed grooved latex layer provides pressure relief for your hips and shoulders while providing extra support for your lower back. The grooves provide comfort and support for a wide variety of body sizes and weights. The wool, flaxseed pad, inner coils, and two latex layers provide a medium-plush feel.
The firmness is at a sweet spot for most people unless you are someone that needs an extra firm mattress.
High Coil Count Layer
The coil layer on the queen-size Cedar Natural Luxe is made up of 1130 individually wrapped coils. The lumbar region has reinforced coils for extra support while the edge of the mattress is fitted with retention coils that prevent you from rolling off.
The edge coils also provide extra support when you sit on the edge of the mattress. The coil layer consists of individual fabric-encased coils that reduce motion transfer and partner disturbance. They are individually wrapped, which eliminates any potential of creaking sounds.
Works On a Variety of Surfaces
Whether it be on an adjustable bed frame, a box spring, a slatted base, or a flat platform, the Brentwood Home Cedar Natural Luxe adapts to any mattress base.
A healthy and responsible solution
The Cedar Natural Luxe mattress is one of the most natural beds online. The materials are anti-microbial and have been produced without the use of pesticides, toxins or harmful chemicals.
This non-toxic bed is an eco-friendly solution. Brentwood Home recycles materials left over from the production of the Cedar Natural Luxe mattress into pillows and other bedding products.
The production of the Cedar mattress has many socio-economic benefits, as the materials are sourced from producers around the world. In turn, this benefits many local economies.
For example, the rubber tree latex plantations employ many people for harvesting and maintenance. This provides economic benefits to populations living in remote tropical regions.
Click here To Get $100 off the The Cedar Natural Luxe with code NMF100OFF
FAQ
How does the Cedar Natural Luxe compare to the Avocado Green Pillow Top in terms of firmness?
The Cedar Natural Luxe mattress will be plusher than the Avocado Green Pillowtop. So, if you are a side sleeper, have a small physique, or prefer plusher mattresses, the Cedar Natural Luxe is a great choice.
My memory foam mattress sleeps hot, what about the Cedar Natural Luxe?
Since the Cedar Natural Luxe mattress is a coil mattress and is topped with a natural wool layer, it draws excess heat and moisture away from your body. Additionally, because Dunlop latex has a much larger cell structure in comparison to memory foam, there is much more room for air to circulate within the mattress.
How does the Cedar Natural Luxe compare to the Zen Haven mattress for someone with back and neck issues?
The Zen Haven mattress is a two-sided mattress with one medium side and one medium-plush side. It is a good option because you can change the firmness of the mattress just by flipping it over. It is vastly different from the Cedar Natural Luxe because it's an all-foam mattress. The Zen Haven does not have a motion attenuating coil layer like the Cedar Natural Luxe.
The Zen Haven mattress features a 5-zone latex layer made of Talalay latex foam. The different zones offer pressure relief to specific parts of your body. The Cedar Natural Luxe latex layer appears to be only 3-zones. There may not be a clear benefit in having a 5 zone latex layer instead of the 3-zone grooved latex layer like in the Brentwood Home.
The two mattresses are quite different in thickness. The Zen Haven is 10 inches thick while the Cedar Natural Luxe is 15″ thick. When comparing weights, the Zen Haven weighs 125 pounds while the Cedar Natural Luxe weighs 145 pounds for the queen size.
I'm a petite side sleeper and my husband is average size. I often find mattresses to be too hard while he finds it perfect. What should I do?
Brentwood Home will send you a free complimentary soft natural latex topper within the trial period if you find the Cedar Natural Luxe too hard. This way, you can customize the feel of the mattress to make it just right and at no extra cost to you.
Click here To Get $100 off the The Cedar Natural Luxe with code NMF100OFF